Aloha, Amazon Seller!
If you don't know how to request a product review on Amazon read this post and learn what Amazon request a review button is and where to find it.
On Amazon.com customer review matters. Shopper's feedback about a product he purchased shares the customer experience. Being a customer-centered platform, Amazon values buyer's opinions and customer communication.
On the other hand, people trust other people's opinions, therefore positive reviews increase sales and drive traffic to your listing, which, in turn, influences your ranking on Amazon. High ranking builds customer trust and creates a solid ground for a perfect brand reputation. Good or bad reviews are good indicators of shoppers' behavior.
On Amazon you can request for a review either via e-mail through Amazon Buyer-Seller Messaging Service, or, if you are short of time, by means of Amazon review request email, automatically generated when you select an Amazon button review.
What is the Amazon Request a Review Button?
Amazon review request button is a special tool allowing a seller to request feedback and a product review through the Amazon Buyer-Seller Messaging system. Request a Review Button is a fast and easy way how to request a product review on Amazon or how to message a seller on Amazon asking for feedback.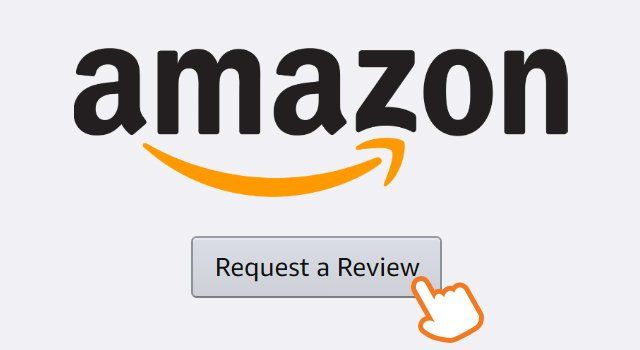 What Does the Amazon Request a Review Button Do?
When you click on the Request a Review Button on the order page in your Seller Central, the customer receives the Amazon request a review message in their email. This message is an Amazon template and the content can't be customized.
What Does the Amazon Request a Review Button E-mail to the Customer Say?
When you click on the Request a Review Button, Amazon Buyer-Seller Messaging Service sends customers an email with a standardized text message.
The message reads:
Subject: Did your recent Amazon order meet your expectations? Review it on Amazon
Message: Your Opinion Matters
Seller XYZ requests you to share your experience for your recent order with other Amazon shoppers. Please take a moment to review your recent Amazon purchase.
[product review link Amazon]
The message is followed by the two images of star ratings with a request to review the product and share feedback.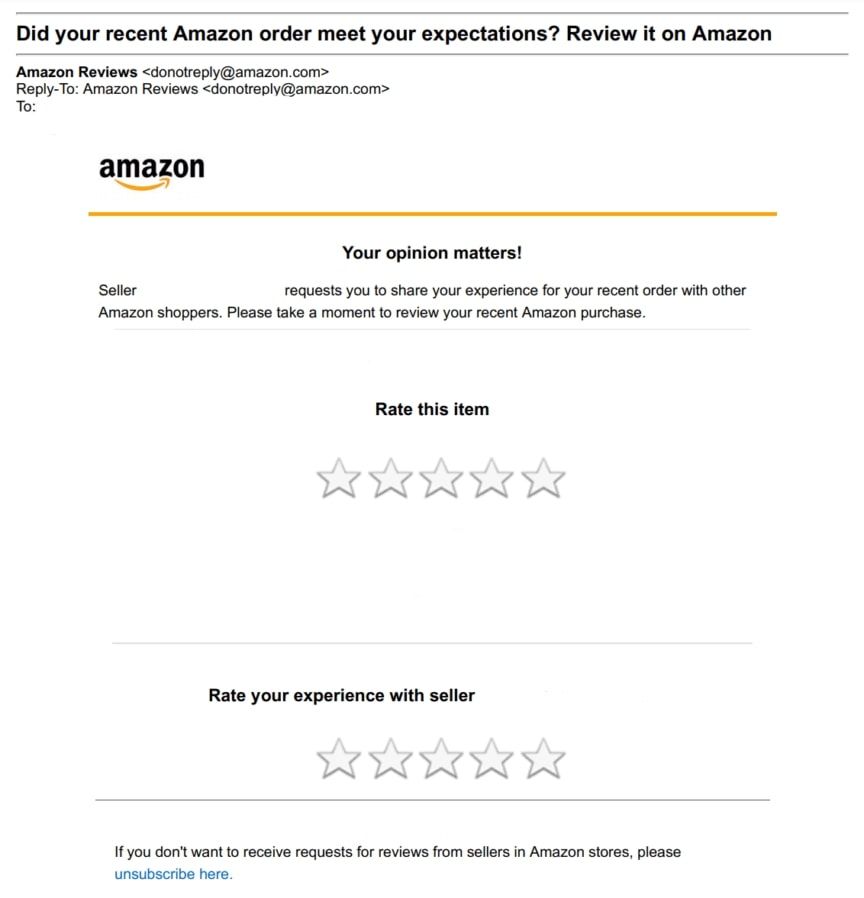 Why Use Amazon Request a Review Button?
There are not so many options on how to ask seller a question on Amazons, and especially how to ask a product question on Amazon. The company encourages sellers to use its Buyer-Seller Messaging system as a means of how to ask Amazon seller a question and how to email Amazon seller in the case of the buyer, and how to request Amazon buyer for any information in the case of the seller not least of all because of a though customer communication policy.
Since the ways of asking for a customer review are limited on Amazon, the Amazon Request a Review Button is a powerful tool to help a seller get them. However, you need to understand, that according to Amazon policy you cannot ask for a positive review, therefore the template contains neutral language. As a result, you can get any review, including the negative one. Anyway, it's worth trying. You can also lower the risk of a negative review by using Amazon reviewer e-mail list.
Amazon Request a Review button helps:
Increase the number of Amazon Reviews;
Add value to your marketing strategy;
Achieve a higher rank;
Increase Sales on Amazon;
Save on Amazon advertising expenses;
Bypass the customer opt-out option;
Observe Amazon communication guidelines.
Amazon Communication Guidelines
Amazon created regulations regarding the content of the messages sent. Though the message you send via the Request a Review button is a template, it is still good to know the rules of customer communication accepted on the platform. All messages should be in compliance with the Amazon guidelines. They monitor the correspondence and will remove any message if they consider it violating this policy.
The Information Not Allowed in the Seller Message on Amazon:
Shipping or order confirmations;
Messages containing only 'Thank you' information;
Messages offering assistance if customers have any problems;
Promotional and marketing messages, which include coupons;
Requests for a positive product review or to remove an existing review.
Amazon permitted messages should not contain:
External links unless they are necessary for order completion;
Attachments except for invoice, product instructions, or warranty details;
Logos that contain or redirect to an external website;
Asking the buyer to opt-out of messaging;
E-mail addresses or phone numbers;
Sensitive information (violence, adult or offensive language);
Tracking pixels;
Images that are not related to the seller's company or brand.
Pros and Cons of Using Request a Review Button
Considering the huge competition level on Amazon, sellers strive to grab any option to increase Amazon rankings and boost the positive reviews, as Amazon A10 search algorithm considers them.
From such an angle, the sellers who are short on time or sell volumes Request a Review Button is a good tool to quickly request reviews through the template email without any headache or concerns to breach Amazon's TOS.
However, you cannot make the message personal and customize it. In the case when a customer has any negative feedback to share, you can't add any reconciling content like asking to contact you directly in the case when the shopper doesn't like something about the product, proposing to refund the customer, etc. Also, with the standard e-mail, there is not a lot you can do to increase brand awareness or promote your other products.
Where to Find Amazon Request a Review Button?
You can find the Amazon Request a Review Button at the top right-hand corner of the Order Details window.
Step 1. Log in to Amazon Seller Central;
Step 2. Click on Orders;
Step 3. Click on Shipped;
Step 4. Click on the Order Number;
Step 5. The Request a Review Button at the top right-hand corner.

Communicating with the customers is an important way to improve customer experience. Get your Review Requester with SelleRise's.