If you don't know how to start selling on Amazon read our guide and create a Amazon seller account.
When you are considering starting your e-commerce business, you need to have a plan on how to do it. If you don't have any experience of online sales, Amazon.com is a good option as this platform has extensive tools on the platform itself and third-party software to help you make your sales success.
When you become an Amazon seller, you join a 12-million army of those who trade on the Amazon marketplace worldwide, with 3 million active sellers. Amazon is a platform with a lot of services making your sales easier.
It is a very exciting process to find a good product that people would like to buy. If you decide to start your Amazon business, you would like to know how to start selling on Amazon. What should be your first and next steps? Нow to become a seller on Amazon? How to sell on Amazon for beginners? How to start an Amazon store? Read this post, we are going to tell you.
Why Amazon?
As an established and one of the biggest world's marketplaces, Amazon attracts a vast international audience to your product. It is tailor-made for any scope of business, either small, medium, or large. It is fairly easy to start and, as an individual, you can set up your account free of charge.
How to Start Selling on Amazon and How to Become an Amazon Seller?
To be able to sell on Amazon you need to create a seller account on Amazon. But before you register an Amazon seller account you need to outline your sales strategy. You can find a perfect product and create your own brand of resale big amounts of cheap items, depending on your business model.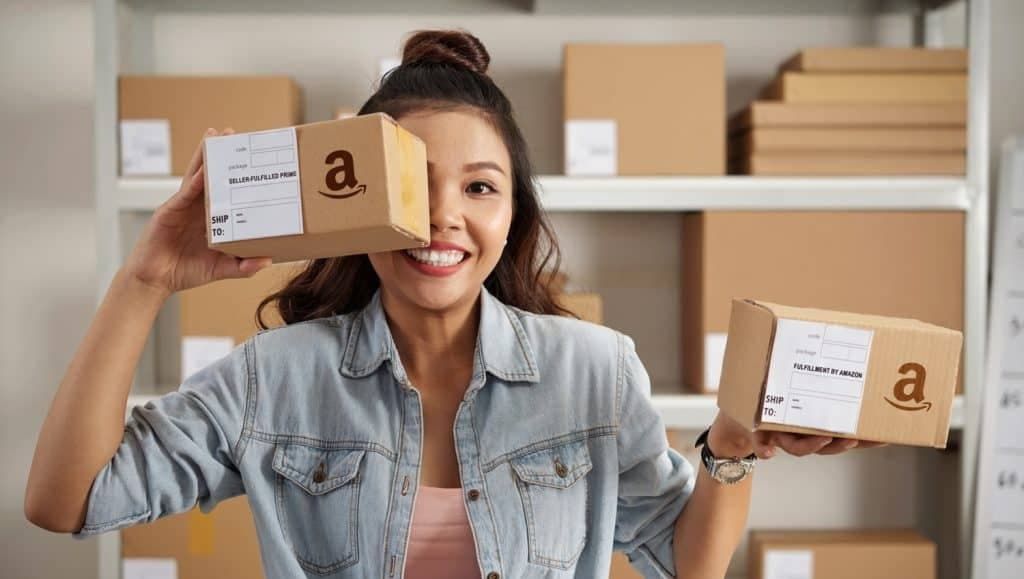 Sales Strategy on Amazon
Basically, you have five types of sales strategies on Amazon.
1. Private Label
Private label is rebranding. It means that you find an existing item produced under its own name and create your own exclusive brand name and trademark to promote sales. You need to invest in building your brand, but it pays off due to brand recognition.
2. Dropshipping
Dropshipping is a supply sales strategy when a reseller doesn't store goods in his warehouse. The items are delivered directly to the buyer from the warehouse of the manufacturer, dealer, or wholesaler.
3. Wholesale trade
Doing wholesale trade means buying low-price products in big amounts or consignments and reselling them as separate units, in retail. You need to find really cheap products to get enough margin.
4. Online Arbitrage
Online Arbitrage is a strategy when a seller selects a product that is already on sale on Amazon, then searches for similar products from other manufacturers who sell them cheaper, and resells them.
5. Handmade
Handmade are products made by people themselves, very often it is something creative or exclusive design. The sellers use the online platform to sell and deliver to shoppers the items they created by their own hands.
To create an Amazon seller account, you also need to select the fulfillment method, as it influences a lot of parameters in your Amazon seller account setup.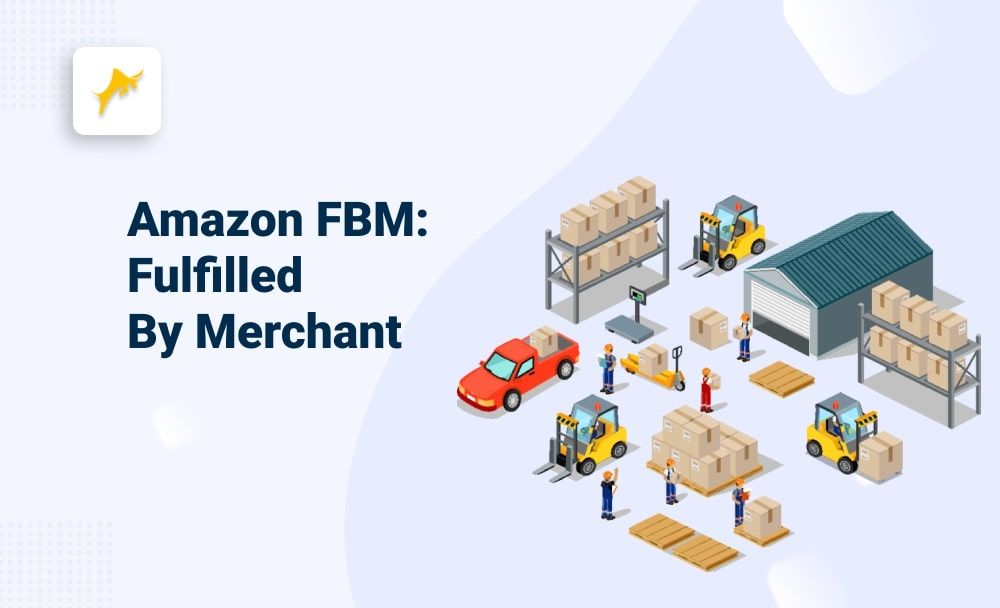 Fulfillment Method
There are four fulfillment methods when you trade on Amazon:
FBM, which means Fulfillment by Merchant;
FBA, that is Fulfillment by Amazon;
MCF, Multi-channel Fulfillment;
SFP that is Seller-fulfilled Prime.
Fulfillment by Amazon (FBA) is the most commonly used method of inventory fulfillment when Amazon takes responsibility for the order picking, packing, labeling, delivery to the customer, and returns management. The newbies at Amazon most often use this method as this eliminates a lot of headaches connected to logistics. However, all of these Amazon services cost money. Amazon charges you 80+ fees, and some of them are 'hidden fees', burning your profit. Therefore, to be on the safe side, it is preferable to use an FBA fees calculator or a more advanced and exact tool to take all these fees into account.
Fulfillment by Merchant (FBM) is when the Amazon seller takes care of the order picking, packing, labeling, delivery to the customer, customer support services, and returns management himself.
A lot of Amazon sellers combine these two methods depending on the product, price tags, and marketing strategy.
Multi-Channel Fulfillment (MCF) is a program where Amazon takes care of the storage, packaging, and shipping of products sold on different online channels.
Seller Fulfilled Prime (SFP) is the Prime program when your items are shipped to domestic Prime customers from your warehouse. When you display the Prime badge, you declare that you will ship orders with Two-Day Delivery at no extra cost for Prime customers.
Select a Selling Plan
When you've outlined the strategy and fulfillment method, and start Amazon seller registration, you need to choose a Selling Plan. There are two plans on Amazon: Individual and Professional. If you go for the Individual plan, there is no payment, but you will need to pay $0.99 per sold item. The Professional plan is $39.99 per month, with an unlimited number of items. In both cases, Amazon also charges a referral fee per sale. The referral fee is a percentage of the total transaction and depends on the product category.
Select your Product
You cannot start selling if you are not sure that the product is attractive for shoppers. If you do, most likely you will not succeed and there is a chance you will lose your money. That's why you need to do product research.
Basically, it is preferable to avoid items with the high competition; oversized, bulk, fragile, or too heavy items; seasonal items; complex to manufacture, difficult to assemble, licensed, or restricted category products. Pick items with sufficient margin analyze the marketplace and market niche and estimate your risks. Ask yourself: 'Why should I buy this product? This will help you structure the pros and cons to select the product and create the perfect listing afterward. Here you can find 5 steps and 10 tips about how to launch a new product on Amazon.
Where to Find a Product for Amazon?
The source for great ideas of wholesale products to sell on Amazon could be a best-seller or trending lists, for instance, those from Alibaba or eBay. Also, you can perform a search through the customer reviews on e-commerce websites, seller, and consumer forums. Consider the products rising in popularity.
Another approach is to do keyword research and analyze popular keywords. They can give you a hint about which category to target.
Also, look at the competition and product demand. Market analysis is a good tool to catch a trend.
What Is the Best Product to Sell on Amazon?
When you are asking yourself how to find products to sell on Amazon and the most profitable products to sell, the good idea is to start with the criteria the best products to sell on Amazon should meet.
The criteria are as follows:
Product price is $15 and $200;
The product can make at least 10 sales a day;
Similar products get a best seller rank of at least 5,000 in the main category;
The top 3 related keywords have 50,000+ monthly searches on Amazon;
Not a seasonal product;
2-3 products with less than 50 reviews on the first page;
Cost is 25% of the sales price;
Small, lightweight, not fragile;
No brand name;
Keyword expansion options;
Reliable and convenient supply;
Recurring demand;
Doesn't belong to the restricted category.
What Are the Product Categories in High Demand?
When you are identifying product to sell, you can look into one of the categories in high demand on Amazon.
High demand product categories are:
Home & Kitchen
Health & Personal Care
Sports & Outdoors
Beauty
Medium demand product categories are:
Toys & Games
Pet Supplies
Home Improvement
Office Products.
Set Up an Amazon Seller Account
To start trading on Amazon, sellers may use their customer account, or create a new Amazon seller account with their business email.
For setting up an Amazon seller account, you would be required to input:
Business email address or Amazon customer account;
Valid credit card;
Government ID;
Tax information;
Phone number;
A bank account where Amazon can send you what you earned from your sales.
After that, Amazon will verify the information you provided and approve your application.
How to Register Amazon Seller Account?
Once you've figured out what you plan on selling on Amazon, you'll need to go through the Amazon seller registration process, which is really quite simple.
Step 1
Go to https://services.amazon.com
You will get to the 'Become an Amazon seller' sign-in page.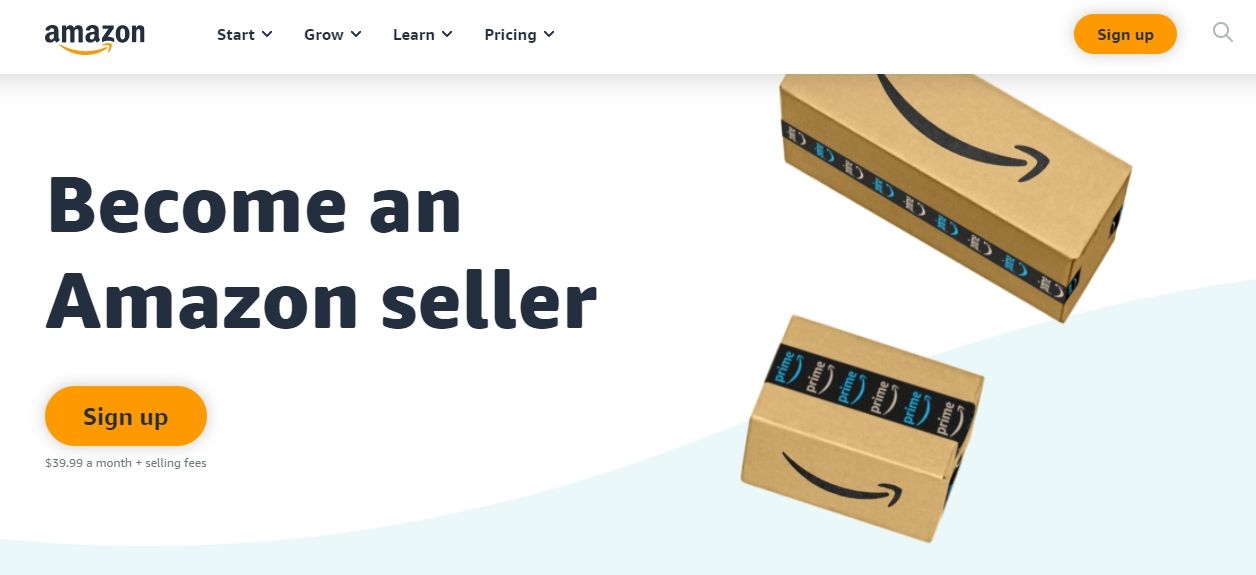 However, we will give you a small tip. If you've chosen Individual Selling Plan, as discussed above, scroll down the page to the heading "Just have a few items to sell? Sign up to become an individual seller", and register from there.
If you start your registration with the 'Sign up' button on the homepage, you will be prompted to register for a Professional Selling Plan, which costs $39.99.
Step 2
When you click on the link, you will get to the signup page, where you can create your account. You will be prompted to enter your name, e-mail address, and password. When you are ready with this, click on the "Next."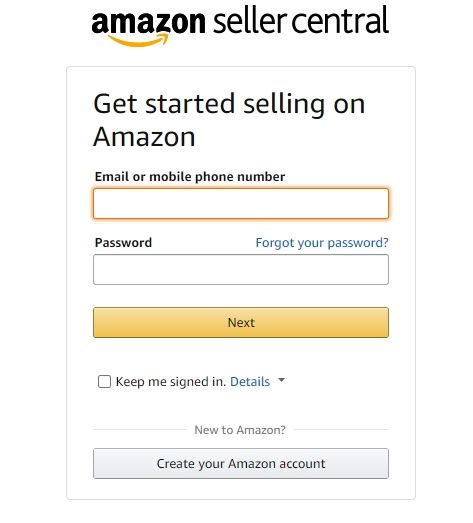 Step 3
As soon as you entered your e-mail, you will receive a verification code. This code is needed to verify the e-mail address you entered. You will need to go to your e-mail and check if you received a message from Amazon with the verification code, which you will need to input in the corresponding field.
After that, press "Verify."
Step 4
At the next step, you will be requested to enter your business information. You will need to state your business location – this is a place where your business is registered and where you pay your taxes. If you don't have an established business yet, enter your country of residence.
After that, state your business type, or you can just choose an option 'None, I'm an individual.
As soon as you're done with submitting your data, click "Agree and Continue."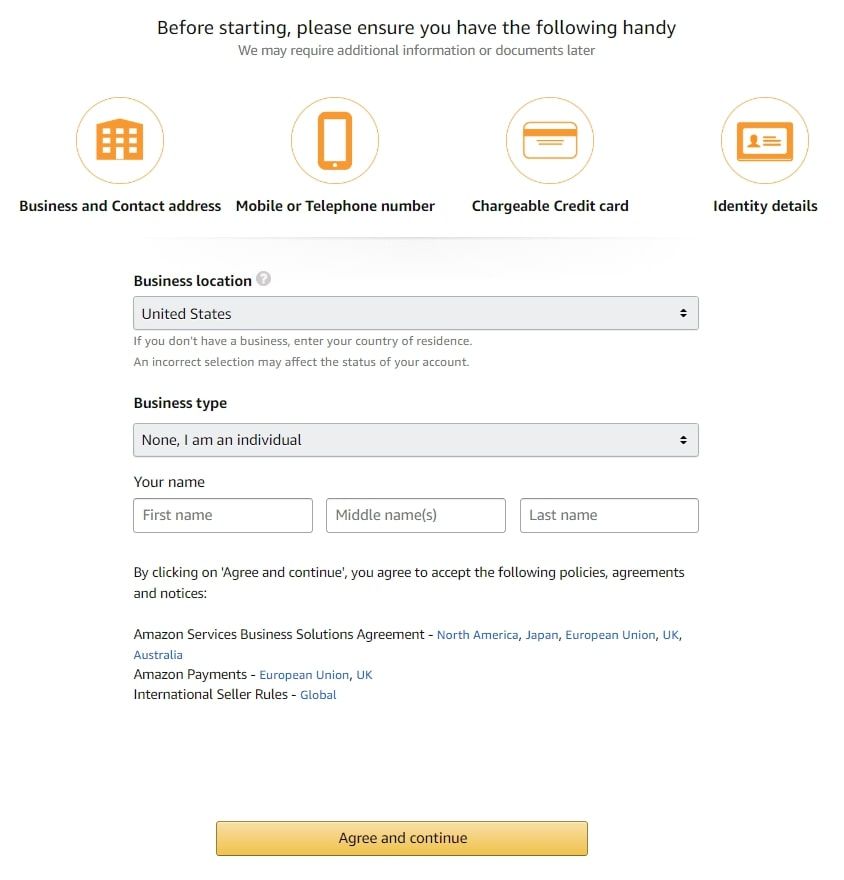 Step 5
When you get to the next page, Amazon will ask you to submit your country of citizenship and birth, date of birth, and proof of identity. The latter is your ID: driver's license, passport, or permanent residence card. You will also need to enter your business address, or, if you don't have a registered business, you can just submit your home address. Also, you are requested to enter a valid phone number at the bottom of the page. Click "Next."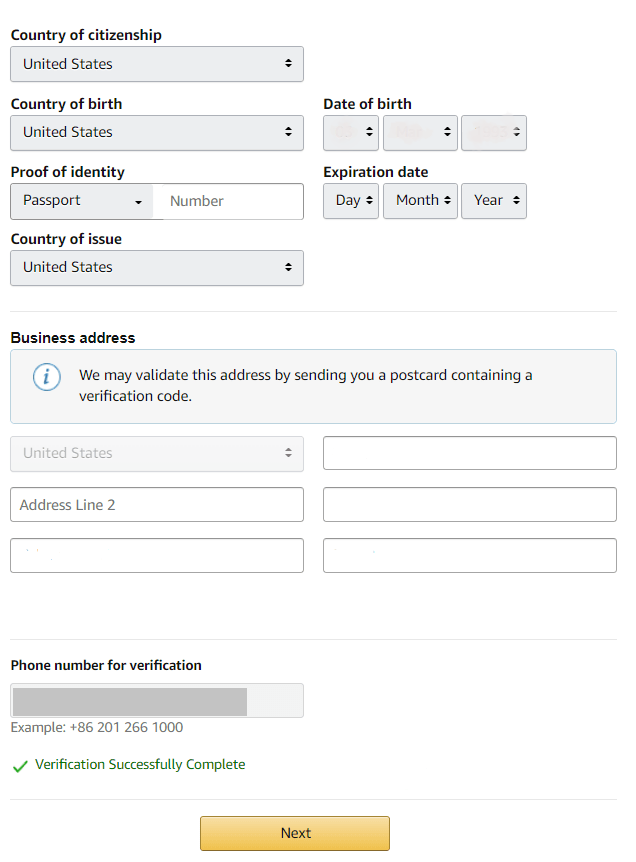 Step 6
On the following page, Amazon asks you to outline your billing method. You need to enter a valid credit card, as Amazon charges you account fees, referral fees, and other commissions.
Click "Next" and proceed to the next step.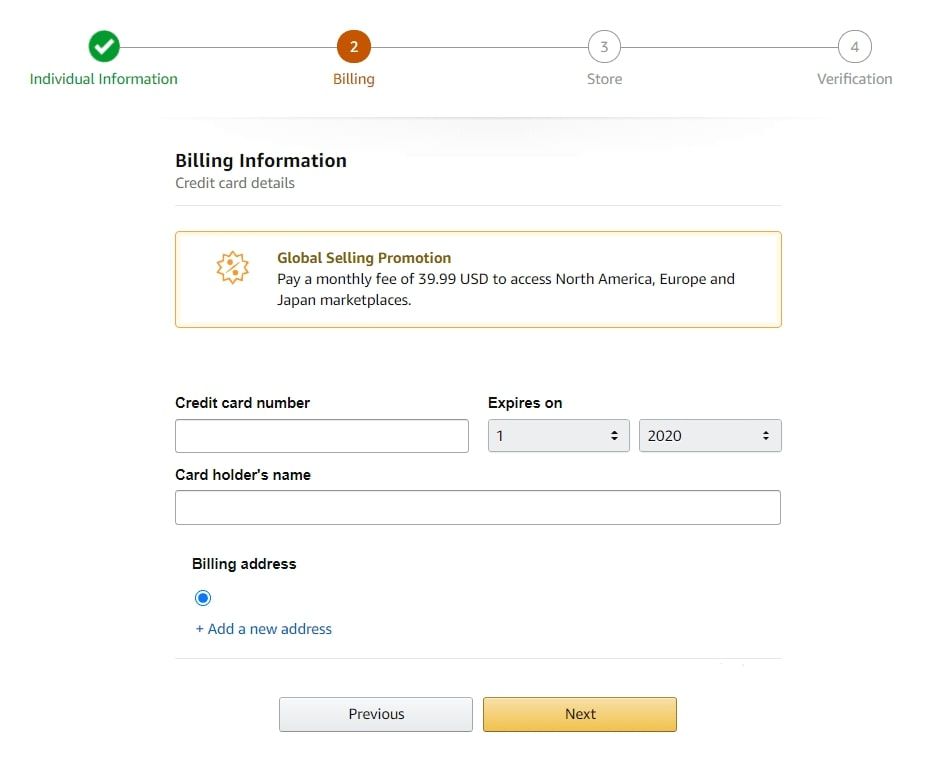 Step 7
At this step, you need to select a name for your Amazon store. This name will be displayed to your customers, Think of something 'eye-catching' to attract the attention of the shoppers. However, the name should not be too bizarre.
On the same page, Amazon asks you to provide some general details about the products you are intending to sell. You are asked if you have got Universal Product Codes, are you a manufacturer or brand owner, and if you own any registered trademarks. Select one of the options for each question and click "Next".
Step 8
At this final stage, you will need to accomplish your identity verification.
First, check all information you submitted and make sure it is correct. After that upload a picture or a scan of your ID. You may be requested to upload a bank account statement or a credit card statement.
When you've done all that, click on "Submit" to send your application to Amazon.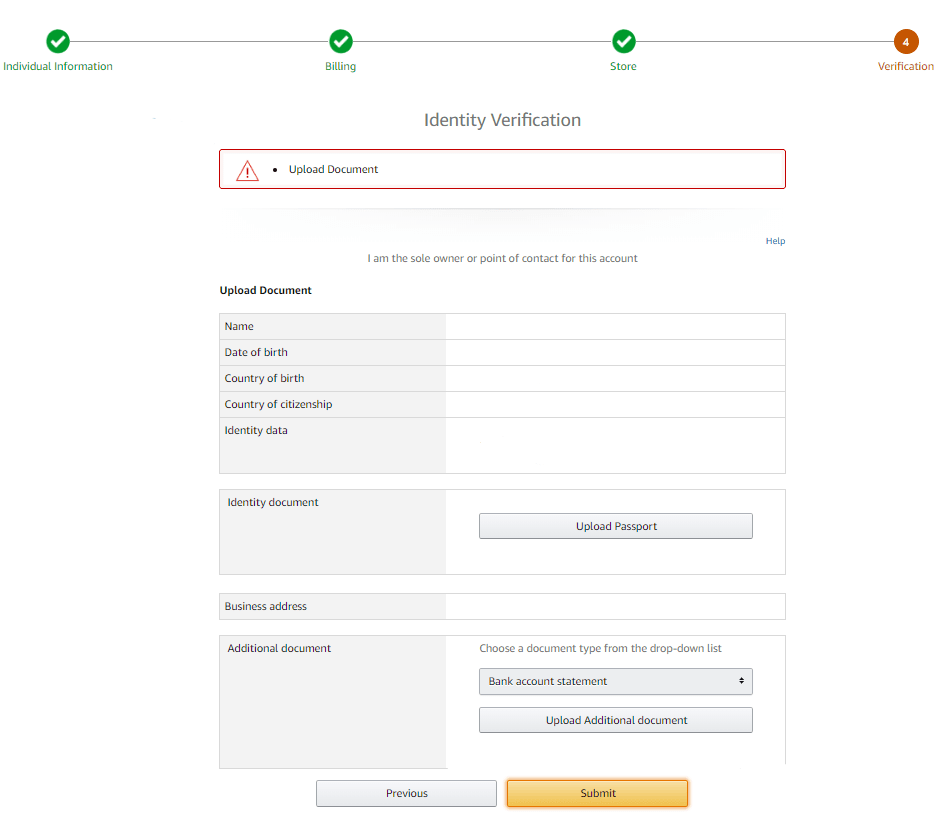 Step 9
Now you've sent an application to Amazon that you would like to become a seller. Amazon is going to review the information in your account and approve it. Normally this is done within 24 hours.
After Amazon has approved your account, you can go to your Seller Central. This is where sellers handle their Amazon sales. In Seller Central, you can manage your inventory, set product prices, contact the shoppers, monitor your account health, communicate with selling partner support, and add new items.
Then follows that last step to start selling.
Create your Perfect Product Listing
Product Listing is the 'face' of your product. Therefore, to attract traffic you will need to include on your listing all key product parameters, researched keywords, high-quality images and videos, descriptions, manuals, etc. The more information you give, the less is the chance for returns and bad reviews.
Now you're there. You've started it and can enjoy your first sales.