Aloha, Amazon Seller!
Learn how e-сommerce software can help you grow your business on Amazon. We can help you choose the best Amazon software for your business.
E-commerce is a digital business using software by definition. Though some of the online stores nowadays expand their retail sales to brick-and-mortar locations, this is rather an exception than a rule. Any online seller, at a certain stage of their sales process, will come across a necessity to use certain types of e-commerce software, be it Amazon seller tools for SMBs, or online store software for large businesses operating online retail stores.
Considering the high level of competition on Amazon, it's difficult to imagine in today's competitive landscape that there is a seller who will just "jump on" Amazon out of the blue and manage to build up a 7-digit business upfront. Merchants are recommended to familiarize themselves with the sales processes, procedures, and regulations before starting their business. At each stage of launching online retail sales on Amazon, they'll most likely need seller tools that complement sales and marketing instruments available in their Amazon Seller Central.
Though unlike other online shopping platforms, Amazon offers a lot of marketing and reporting tools for sellers, there are still gaps that have to be filled in by third-party Amazon software for sellers.
Large businesses that run online stores, simply can't survive without software for e-commerce business. Starting an online store means that you'll need to use certain e-commerce software solutions from the start – you'll need to create an online store. Since such a store includes running a complex of sophisticated components and processes, your e-commerce software should be able to streamline all of them through an easy-to-use interface and integrate with other platforms and services such as CRM, CMS, ERP, payment gateways, e-mail marketing tools, accounting software, fulfillment services, and social media.
To the professional sellers, Amazon offers an option to create a storefront on their marketplace, but there are sellers, who will prefer, for a number of reasons, to create their stores not only on Amazon but also on other platforms like Shopify, to diversify sales channels and reach different audiences, as well as be in full control of their product.
In this blog, we will talk about e-commerce software for small businesses and how it can help merchants in their sales, as well as about how to select Amazon business software and e-commerce software for a storefront.
What Is an E-Commerce Software?
Simply put, e-commerce solutions are specialized software helping merchants sell online. Depending on the size and type of your business, as well as on the business and marketing strategy you've selected, you'll need to choose software and a service provider, that will fit your targets best.
There is a difference between e-commerce software running the whole storefront and Amazon seller tools helping merchants grow sales, make product research, and manage PPC campaigns. Despite the ever-growing competition on Amazon making seller tools more and more complex, e-commerce software for a storefront is far more complicated since it covers a lot of processes that are taken care of by Amazon for sellers.
Whichever type of e-commerce software you'll need, it should be able to manage all online processes, help take care of inventory management, returns and refunds, process payments, compute taxes, and fulfill orders. On top of that, it should help promote a product, assist in selecting marketing and pricing strategy, take care of ad campaigns, basics of customer communication, as well as provide reporting functions.
Since software's main goal is to simplify complicated tasks and processes, it should be easy-to-use and user-friendly, so that you or your employees who don't have any technical backgrounds, can get involved in the sales process in a fast and simple manner.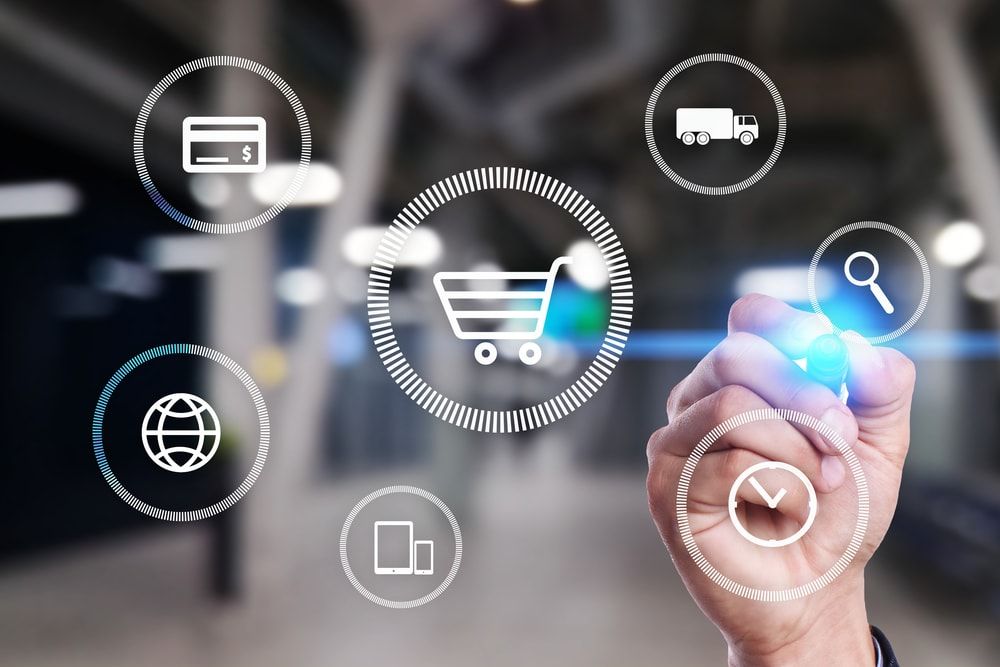 What Are the Types of E-Commerce Software?
On-premise and SaaS Solutions
To start with, there are on-premise and Software as a Service (SaaS, or "hosted") solutions. The former means that you'll have to buy all servers and take care of the licenses and maintenance yourself (hire a developer company). Such an option has the advantage of independence and security, however, this is a very costly choice and is typically used by big companies. The latter is a common solution used by the sellers due to ease of use and much lower investment.
SaaS services for online stores are hosted and self-hosted, depending on your business's needs. Hosting your e-commerce store on a platform will mean that it offers a set of services helping you sell a product based on their software and hardware solution, while by creating a self-hosted store take complete responsibility for the store build, setup of a server (typically in the cloud), and your store's files and data storage.
Hosted Online Store
The hosted e-commerce platform is an all-inclusive software solution that enables online retailers to manage their businesses. The purpose of such a platform is to connect sellers who list their product on it and the shoppers who are purchasing online.
The majority of the platforms supply website builders, accounting and inventory management systems, shopping cart functions, customer service infrastructure, technical support, and other features. This involves paying a monthly subscription fee for the privilege of using the platform's services and software.
Examples: Shopify, Bigcommerce, Volusion, etc.
Self-hosted Online Store
A self-hosted online store is the one where you'll take up the responsibility of hosting yourself. This means that you'll have to set up a cloud-based server, where all your files and data will be stored and maintained. This will be typically the major cost. You'll also have to take care of any troubleshooting that may arise, or hire professionals for the same purpose.
Examples: WooCommerce, Magento, Shopware, etc.
Amazon Seller Tools
If you are a small business starting to sell a couple of private label, dropshipping, or handmade products, there's hardly a need for you to spend time on creating a full-scale branded store, on or off Amazon. You can simply list your items on the platform and start selling. Of course, you'll need to do market and product research, learn how to create an appealing listing, if your product doesn't exist on Amazon yet, and go through the whole sales process, however, Amazon is a good place for a seller to start since it has a huge audience, a lot of built-in seller tools, programs, and training courses, as well as extensive marketing instruments helping newcomers to grow. This option may be better than looking for self-hosted e-commerce software for small businesses if you are not technically sound and want to concentrate on selling.
Amazon offers a lot of instruments for sellers to grow their business, however, not all of the metrics you can easily automate or analyze in your Seller Central Account. These gaps are typically filled in by third-party Amazon seller tools that sellers use for different purposes, ranging from product research to automating customer e-mails. There are different kinds of seller tools, like e-commerce reporting software, seller tools helping you measure your business analytics, inventory management tools, and more.
Examples: SelleRise, Helium 10, Jungle Scout, Viral Launch, etc.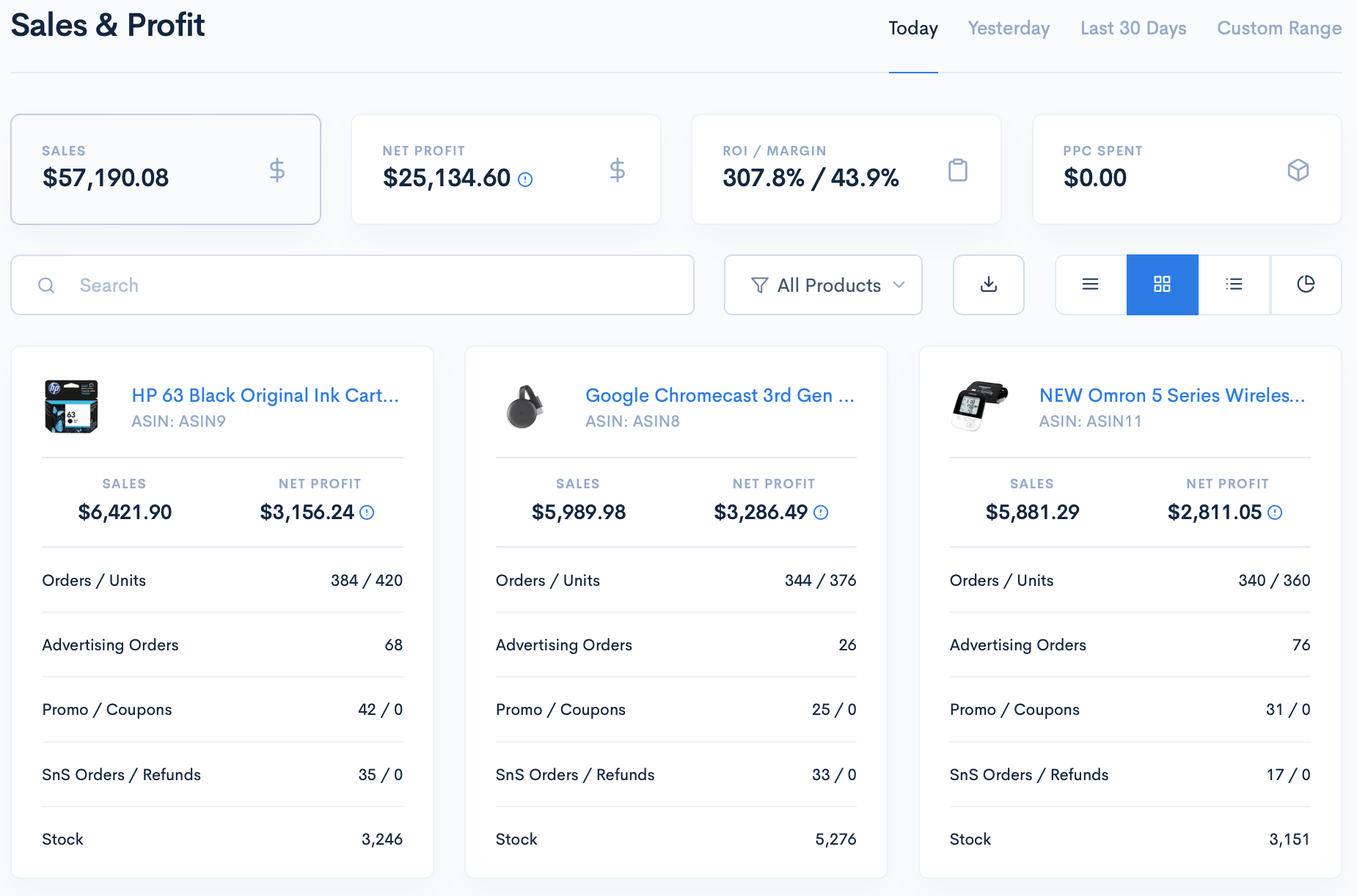 What Does E-Commerce Software Do?
E-commerce software should be able to handle the most important tasks related to running your store and integrate with other features and functionalities you may need. The purpose of e-commerce software is to put together all your sales processes, allow for seamlessly running your business, control the major product KPIs and your profits.
E-Commerce software's functions are:
Marketing simplification;
Shipping and taxes automation;
Inventory management;
Customer communication and enhancement of user experience.
How to Choose the Right Type of E-Commerce Software?
There's no ready-made answer to this question. Your choice depends on your goals and priorities, the size of your business, budget, efforts you are ready to invest in creating your online store, and as we mentioned, your technical skills.
If you don't have the time or resources to spend on building your independent online store and would like to minimize the efforts, set up your business easily and quickly, without any technical challenges and high upfront cost, then any of the hosted e-commerce platforms should be your choice.
On the other hand, if you have the strong technical knowledge or a team of tech experts ready to help you focus on flexibility and creative design, then a self-hosted platform is your best fit.
The Parameters to Consider When Selecting Software for Your Business:
Ease of use;
Customer score;
Helpdesk and tech support;
Value for money;
Website features;
Sales features;
Marketing features;
Product limitation in the store;
Sales and customers limitations;
The volume of traffic limitations;
Possibility to sell physical and/or digital products (if applicable to your products);
Multiple payment gateways;
Reports and analytics data;
Integrations with social media and other sales channels;
Mobile commerce ready.
How Can Seller Tools Help Amazon Merchant?
Amazon is an advanced end-to-end platform offering a lot of instruments to sellers, however, being an integrated solution both for shoppers and merchants, it doesn't cover all issues in an equally convenient way. Seller tools help solve the pain points of your business, give you extended, more sophisticated solutions compared to what Amazon offers. The best tools are created by the sellers for sellers and assist with making sales processes more efficient to maximize profits.
How to Select Amazon Seller Tools?
The first thing you should keep in mind is that you don't need to download all tools available on the market, even though there are a lot of free options. Select your tools wisely, research them, and choose those you really need. Typically, every seller has their own set of tools he'd use.
When selecting your tools, look at the options you have in your Amazon Seller Central first, and find out what you lack. Explore listing tools, have a look at pricing research tools, make sure that you don't overlook business analytics instruments, and competitor intelligence. Consider sales and marketing optimization tools, and don't forget about the customer review feature.
One more recommendation will be to keep within your budget limits since not all seller tools are free of charge.
Categories of Amazon Seller Tools to Consider:
Product research;
Listing optimization tools, keyword research;
Pricing and repricing tools, price monitoring and notifications;
Advertising and PPC campaigns;
Competitor research;
Marketing tools;
Analytics and reporting;
Seller reviews and feedback automation;
FBA refunds and reimbursements;
Inventory management, forecasting, restocking, etc.;
Customer support, customer messaging;
Finance and capital, funding options for sellers.
Enjoy your sales, and don't forget about your product's profitability and KPIs. It's very important to keep track of them as they show your account health. To do the analysis easily, you can use Business Analytics Seller tools, like SelleRise. With this tool, you can keep track of your sales, costs, and profits and see where you can optimize them. Also, you can see sales and profit dynamics showing you how healthy is your business.