Aloha, Amazon Seller!
What is a third-party seller on Amazon? Why does the Amazon FBA program provide huge opportunities for 3rd party sellers? Learn more about it in our article.
The world's leading online shopping marketplace Amazon.com attracts over two thousand new sellers daily giving creative merchants excellent opportunities and advanced tools to grow their e-commerce business, retail, and distribution.
Built on the network effect, Amazon adds on new sellers, while their products attract buyers to the platform; in turn, the buyers drive in more sellers to sell more items on the marketplace. At the far end, the value of the marketplace's service for the sellers grows as the number of other consumers increases.
To the sellers, Amazon offers various partnership models, including the third-party seller Amazon option. In this blog, we are going to give you a lot of important tips on how to become a successful Amazon third-party seller, and discuss Amazon third-party sellers' problems.
What Is a Third-Party Seller on Amazon?
There are three levels of seller partnership with Amazon.
A 1st party seller (1P) is a brand manufacturer that sells its products directly to Amazon, who then sells them to the shopper. Such products are labeled "Ships from and sold by Amazon.com".
A 2nd party (2P) seller is the type of seller who relies on the distributor partnership to get their products shipped. This is when a brand sells to a distribution partner and the retailer then buys from that partner. Such products are labeled the "Sold by brand, ships from Amazon".
A 3rd party seller (3P) uses Amazon as a marketplace to sell directly to shoppers. Third-party sellers handle customer service for orders shipped directly from them unless the order is eligible for Amazon Prime. Their items are displayed as "Sold by merchant and Fulfilled by Amazon / Fulfilled by merchant". This is the way to distinguish third-party sellers of Amazon products from the inventory of other sellers on Amazon.
How Many Third-Party Sellers Are on Amazon?
Amazon is a huge marketplace with 9.6 million third-party sellers registered, of those, however, only 2.6 million are active, according to Marketplace Pulse.
By Amazon's own estimations, Amazon 3rd party sellers account for around 60% of all products sold on the platform.
In 2020, the e-commerce giant generated approximately 80.5 billion dollars in third-party seller services, an increase of nearly 50 percent over the previous year.
In the second quarter of 2021, 56 percent of paid units were sold by third-party sellers.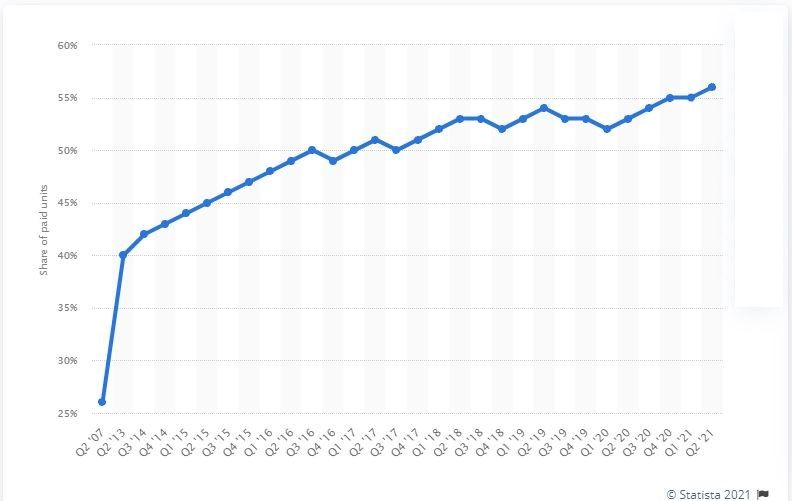 Marketplace sellers live in 93 countries and range from age 18 to over 80. 52% of sellers reside in the U.S.; 8 % are in China; 7 % reside in the U.K.; 5 % live in Canada. Many sellers operate in multiple Amazon marketplaces.
1P and 3P Amazon Sellers
1P vendor sales, where manufacturers send their inventory to Amazon, have the advantages of wholesale sales to Amazon, priority selling, and increased brand trust due to Amazon's credibility. However, 1Ps have less control over their brand and pricing as it is sold by Amazon.
3P sales are a popular business model for sellers compensating for the mentioned 1P sales disadvantages; 3Ps can set improved margins through better pricing control, can offer better payment terms, and are less dependant on the relationship with Amazon.
How to Become a Third-Party Seller on Amazon?
To be able to sell on Amazon you need to create a seller account on Amazon. But before you register an Amazon seller account you need to take several steps.
Step 1. Select your sales strategy
Choose from private label, dropshipping, wholesale trade, online arbitrage, or handmade.
Step 2. Select fulfillment method
To create an Amazon seller account, you also need to select the fulfillment method, as it influences a lot of parameters in your Amazon seller account setup: FBM (Fulfillment by Merchant), FBA (Fulfillment by Amazon), MCF (Multi-channel Fulfillment), or SFP (Seller-fulfilled Prime).
Step 3. Select a Selling Plan
When you've outlined the strategy and fulfillment method, and start Amazon seller registration, you need to choose a Selling Plan. There are two plans on Amazon: Individual and Professional. If you go for the Individual plan, there is no payment, but you will need to pay $0.99 per sold item. The Professional plan is $39.99 per month, with an unlimited number of items. In both cases, Amazon also charges a referral fee per sale. The referral fee is a percentage of the total transaction and depends on the product category.
Step 4. Select your Product
You cannot start selling if you are not sure that the product is attractive for shoppers. If you do, most likely you will not succeed and there is a chance you will lose your money. That's why you need to do product research.
You may use different software, but here's the simple way - just to use Amazing Secret to make money on Amazon easy. Amazing Secret shares with you~75 000 products that generated over ~150 million dollars for the last 12 months.
Basically, it is preferable to avoid items with high competition; oversized, bulk, fragile, or too heavy items; seasonal items; complex to manufacture, difficult to assemble, licensed, or restricted category products. Pick items with sufficient margin analyze the marketplace and market niche and estimate your risks.
Step 5. Set Up an Amazon Seller Account
To start trading on Amazon, sellers may use their customer account, or create a new Amazon seller account with their business email.
For setting up an Amazon seller account, you would be required to input: business email address or Amazon customer account; valid credit card; government ID; tax information; phone number; a bank account where Amazon can send you what you earned from your sales. After that, Amazon will verify the information you provided and approve your application.
Read a detailed guide on how to register an Amazon seller account here.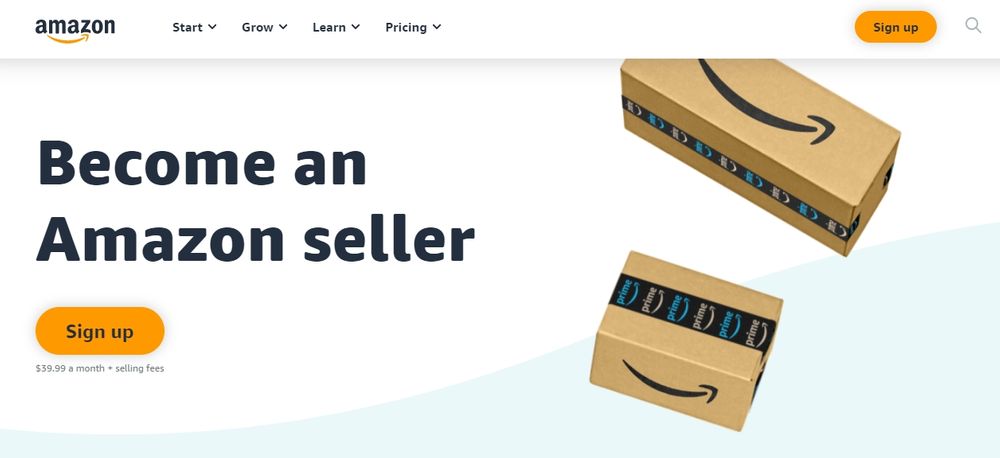 How to Order from a Third-Party Seller on Amazon?
The steps to place an order with a third-party seller are the same as placing any other order on Amazon.com. Shopper adds items to their cart and complete order through the Amazon checkout process. Payment for the order may be processed immediately, or when the order ships. Amazon will send your funds to the third-party seller, but won't share payment information.
If items from the third-party seller aren't Fulfilled by Amazon, the seller will fulfill the buyer's order. The seller will also handle their customer service, excluding Amazon Prime items. If a shopper has a problem with an order, they may be eligible to file a claim under the Amazon A-to-z Guarantee.
When a shopper places an order with a seller, they can cancel the order within 30 minutes. To do this, the shopper needs to select the order from Your Orders and select Cancel Items. After 30 minutes, the shopper can request a cancellation from the seller through Your Account by selecting Request cancellation.
Sellers try to ensure that stock is available for delivery. However, sometimes, a listed item will no longer be available by the time you place an order. If a seller can't deliver your item, they'll refund the seller quickly so that they can place a new order. Amazon requires sellers to keep these stock issues to a minimum, but, in some cases, the out-of-stock item might no longer be available at the listed price.
Sellers set their own prices for the items they sell on Amazon. Prices for similar or identical items from other sellers can vary.
How to Contact Third-Party Seller on Amazon?
To contact a third-party seller, do one of the following:
Contact the seller before placing an order:
On the product detail page, select the name of the seller.
On the next page, select Ask a question. Occasionally, the same product will be sold by different sellers. In such cases, select New and Used on the product listing page to see the list of available sellers. Then, select the rating of the seller you want to contact to access the seller's profile page and select Ask a question.
Select the appropriate options in the Seller Messaging Assistant chat or fill out the contact form. Your message will be sent to the seller via the Buyer-Seller Messaging Service. They'll respond to you by email within two business days.
Contact the seller after placing an order with them:
Go to Your Orders.
Find your order in the list.
Select Problem with the order.
Choose your topic from the list displayed.
Select Contact seller.
Allow two days for the seller to respond.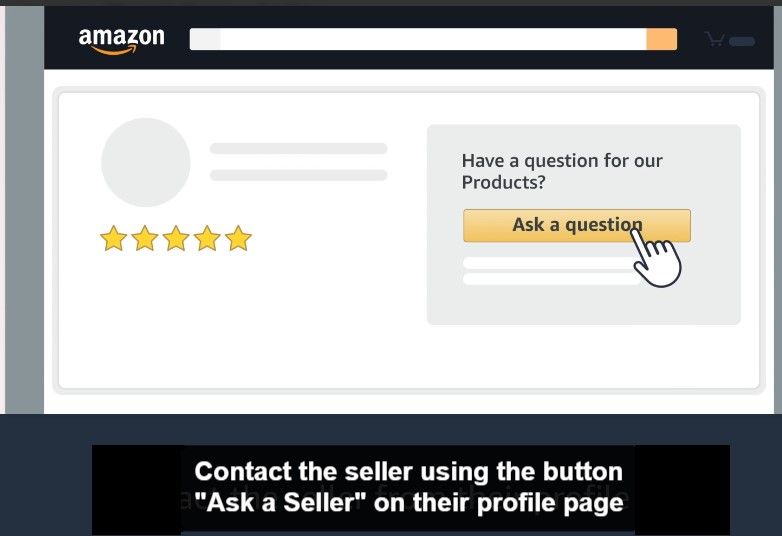 How Can Third-Party Sellers Grow Their Sales?
Making money on Amazon depends a lot on the right product selection, visibility, and conversions.
To achieve that, you need to be a proactive marketer, select the right niche, be competitive and know your competition, base your strategy on informed decision-making, and maximize profits.
Here are 5 effective strategies to increase Amazon sales:
1. Content is a king: regularly revise your listings;
2. Marketing strategy is fuel for sales;
3. Constantly revise your pricing strategies, sales plan, and inventory;
4. Analyze your business metrics;
5. Make most of all amazon features, but account for the price.
SageSeller sometimes shares money making cases on Amazon. You may find them here.