Aloha, Amazon Seller!
Learn how to become a wholesaler on Amazon and how to wholesale on Amazon with SageSeller. Look up our guide for selling wholesale products.
Successful sellers on Amazon.com are constantly looking for new opportunities to scale, grow and diversify their sales for maximum profit. Wholesale sales, or wholesaling on Amazon is one of the strategies allowing you to grow your business fast, but at the same time, it incurs substantial financial resources.
Generally, Amazon's FBA wholesale process is similar to the other sales models in terms that you need to have the right product and a good marketing strategy to it, as well as a reliable supplier manufacturing big consignments of the products for you. However, unlike other business models, the idea of wholesaling is to profit from the good per-item price you buy in bulk. Unlike Private label sellers, Amazon FBA wholesale suppliers don't necessarily need to create a brand, and unlike retail arbitrage or dropshipping merchants, Amazon wholesale sellers buy very big quantities of products.
If you are looking for new ways to gain more profit, it's a good idea to consider wholesale for Amazon sellers. Amazon business wholesale is gaining popularity: 26% of Amazon sellers are currently using the wholesale sales model.
In this blog, we will discuss the main steps you need to undertake to create a successful Amazon wholesale business and useful tips wholesale to sell on Amazon.
What Is Amazon Wholesale Business?
Selling wholesale on Amazon refers to buying products in bulk directly from the manufacturer or supplier at a discounted price and afterward selling them on Amazon for a retail price.
This model requires buying products in larger quantities; therefore, you'll need to invest substantial funds upfront. At the same time, when you make procurement of big consignments, the manufacturers would most likely offer you a very good per-item price, which potentially implies higher profit margins.
FBA wholesale is also a reliable way of sourcing products in terms of availability since manufacturers would prioritize bulk orders.
Also selling wholesale implies almost no risk of failure with the product launch. This is a big plus since you will sell an item or a brand already familiar to the shoppers. This means that you know from the start that the product will be in demand and you can predict your sales volumes and dynamics. Naturally, you'll never select to resell a wholesale product that sells badly, which means that this is a win-win game. On the other hand, when you sell somebody else's popular brand, you don't have to invest too much in PPC campaigns to promote your item.
How to Sell Wholesale on Amazon?
To sell wholesale on Amazons you need to follow certain steps, which we're going to describe below.
Step 1. Register an Amazon Seller Account
To start selling on Amazon, you'll need to register your Amazon seller account. Here you can find a detailed guide on how to register an Amazon seller account.
Wholesale for Amazon sellers would logically imply that you register a Professional account. As a professional seller, you pay $39.99 per month, while with an Individual account you'll pay a $0.99 fee per sale, meaning that if you make over 40 sales a month, a Professional account saves you money. On top of this, Amazon offers advanced seller tools to Professional account owners, including order reports, Buy Box eligibility, inventory tools, etc.
Note also, that wholesale Amazon sales may require a wholesale license, a business license, or a tax-exempt form, depending on the state or country of your business.
Step 2. Find a Perfect Wholesale Product
Before we give you some tips on how to avoid mistakes with a selection of wholesale products to sell on Amazon, please, keep in mind one thing. Always get product samples from the manufacturer, test them and see if this is what you expect in terms of quality and functionality. The reason for this is that if you find a product, for instance, on eBay or Alibaba, the picture could essentially differ from what the item really looks like.
7 Tips to find a perfect wholesale product that sells on Amazon
Avoid items with the extremely high competition;
Select a product with good margin;
Avoid oversized, bulk, fragile, or too-heavy items;
Avoid extremely seasonal items;
Avoid complex-to-manufacture, difficult-to-assemble, licensed, or restricted category products;
Check if the product sells in the selected marketplace;
Check financial parameters, and see how much your product price is justified.
Tip. To quickly and effectively source profitable products, merchants use product research tools. Seller Assistant Аpp is one such tool that can reliably help you with this task. This all-in-one extension incorporates all features vital for product research. Seller Assistant App shows you the product's profit, margin, and ROI. It also helps you immediately see if a product has any sales restrictions or has triggered problems with account health in the past. It combines an FBM&FBA profit calculator, Quick View, Stock Checker, and Restrictions Checker in one tool.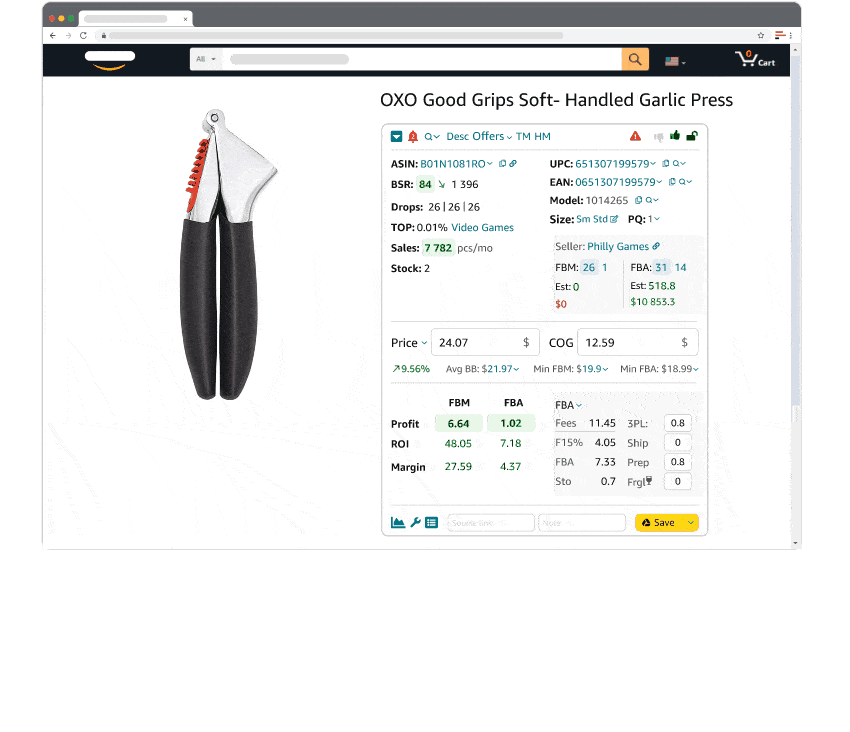 A complete guide on how to select a product to sell on Amazon you can find here.
Where to Find a Perfect Product?
The source for great ideas of wholesale products to sell on Amazon could be a best-seller or trending lists, for instance, those from Alibaba or eBay. Also, you can perform a search through the customer reviews on e-commerce websites, seller, and consumer forums. Consider the products rising in popularity.
Another approach is to do keyword research and analyze popular keywords. They can give you a hint about which category to target.
Also, look at the competition and product demand. Market analysis is a good tool to catch a trend.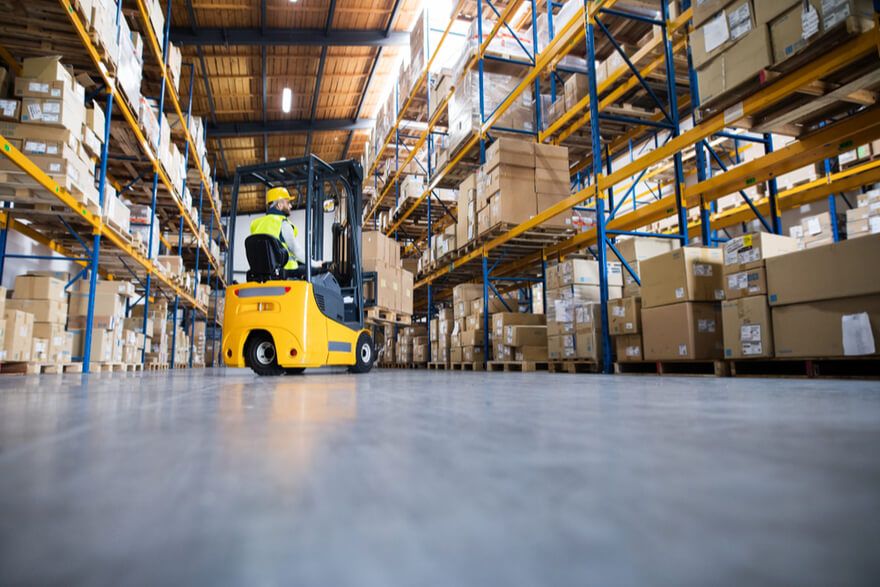 Step 3. Source the product from the manufacturer or supplier
When you're ready with the product concept and understand what you're going to sell, the next step is to select your supplier. They should be able to provide quality products and meet your deadlines. Check if the producer is ready to manufacture the amounts you require.
4 tips on what to look at to find a good supplier for wholesaling on Amazon
Test Your Supplier's Performance
Don't order too many items from the start. Discuss with the supplier the possibility of urgently sourcing a number of items if that is needed. Also, if you are looking for suppliers on Alibaba, ensure they are English-speaking to avoid miscommunication.
Find a Reputable Supplier
Select a reliable producer, find suppliers with a good reputation. Typically, manufacturers care a lot about their ratings.
Ask Questions about the Product and Production
Verify your importer, ask questions about their products, and for a copy of their business license. Have a Skype meeting. Ensure they are ready to ship out agreed consignments within agreed deadlines. Include all your quality control, lead times, and other terms and conditions in the order contract.
Consider Your Risks
You always have certain risks when you start sourcing products from a new supplier, and you need to be well-prepared.
Here's what you need to look at:
Low-quality items;
The product doesn't look like in the picture;
Payment transaction frauds;
Unreliable supplier or reseller;
Wrong product strategy.
You can find answers on how to deal with such risks, especially when sourcing from Alibaba, in our blog.
How to Find Wholesale Suppliers for Amazon?
There are several options for how to find wholesale suppliers for Amazon. You can do a search on Alibaba, this is a good place to find a supplier of items with a good profit margin, as well as Private label products. You can also consider working with sourcing agents or perform a search in the wholesale directories. One more source is US Import Database. If you would like to meet your supplier in person, you can try and visit trade shows.
For the US, you can also try and look for your wholesalers and distributors in the below list:
Dollardays;
Liquidation;
Big Lots;
Gabes;
Tuesday Morning;
Price Master;
World Wide Brands;
SaleHoo;
Lotus Light.
Step 4. Create an Optimized Listing
If you're going to sell a product that doesn't exist on Amazon, it is important to optimize your listing. Even if you have the best product in the world, if your product listing is an unclear mess with poor pictures, shoppers will not be interested to buy it.
An optimized listing should contain:
High-quality images / video;
Highly-ranked keywords;
Clear product descriptions and informational bullets;
A+ content;
20 to 30 reviews with at least a 4-star rating.
Step 5. Launch and Promote the Wholesale on Amazon Product
Once you've started selling, you need to create a marketing strategy, see how it works overtime, and analyze if it is efficient and really helps you sell the product. If not, it needs to be revised and modified.
Here's what you should look at:
Increase visibility on Amazon;
Monitor your ad campaign metrics; track reach, engagement, impressions, clicks, CTR, CPA, CPM, and ad frequency;
Analyze the efficiency of your Sponsored product promotions;
Set up and review your ad campaigns;
Attain Buy Box;
Monitor your ACoS;
Consider all ways of driving conversions: request customers for reviews, remove negative reviews;
Promote products outside Amazon;
Attain help from Influencers.
Step 6. Grow Your Business
Perfect listings, advertisements, customer reviews – all of these tools are generating conversions, but the money you earned can be immediately burned down if you don't track your expenses and other business metrics. To avoid this, you need to track your product KPIs and analytics. Amazon analytics for sellers helps you not only know your sales numbers, but also determine your real profit figures, and a lot of other data, that can increase or reduce it. Accurate profit analytics will show you all details about your Amazon transactions, each SKU, ad and organic sales, and other vital business metrics.
Keeping track of all this is not easy, but fortunately, you have Amazon business analytics tools for this purpose. This is an efficient and easy way to maximizing your profits.
See what you need to monitor.
Analyze key metrics influencing your Amazon profit;
Monitor your organic and advertising Amazon sales figures separate, also per order and unit;
Account for your ACoS;
Monitor your net profit;
Track all your Amazon Fees, including 'hidden fees', also per order and period;
Track changes in your Expenses on items, including advertising costs and the cost of products;
Monitor changes of your order fees including fees, charges, and taxes paid in connection with the sale, storage, packaging, and delivery of the item;
Monitor what fees burn your Amazon profit;
Trace all your refunds and reimbursements and handle them.
Pros and Cons of Selling Wholesale
Pros:
Possibility to sell established brands in demand;
Fast to get up and running;
High profit margins;
Growth potential.
Cons:
High competition;
Big up-front investment;
Complicated product research.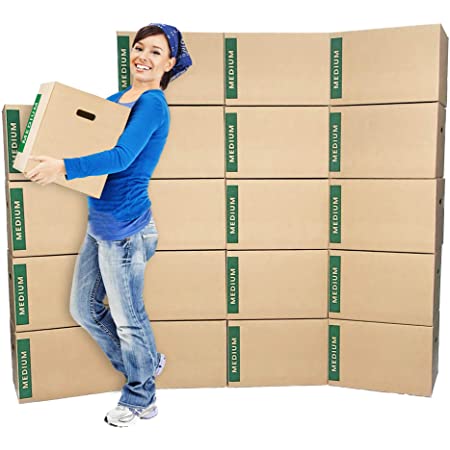 How to Fulfill Wholesale Orders on Amazon
On Amazon, there are two most popular fulfillment methods: Fulfillment by Amazon (FBA) and Fulfillment by Merchant (FBM).
FBA is an Amazon program where the marketplace takes care of picking, packing, and shipping the products to your shopper on your behalf. This removes from you the fulfillment headaches, and, in certain cases, FBA costs can be less than those occurring when you ship the products yourself.
However, there are cases, like oversized, fragile, handmade or exclusive items, or other types of products, when it's preferable to use FBM. When you sell wholesale, FBM can be a more cost-effective option. FBM management model gives you full control of the sales process, provides for a multi-channel approach, and ensures higher margins.
Enjoy your sales and don't forget about your business analytics. Keeping track of your figures is key to your account health and maximizing your profits.