Aloha, Amazon Seller!
Check our guide to help you find products with high demand and low competition on Amazon. Start with the right step to succeed on Amazon with SageSeller.
Among hundreds of millions of products sold on Amazon.com annually, every seller dreams of launching a product with high demand, low competition, and a good profit margin. When someone asks, 'Is selling on Amazon profitable?' the answer would be, 'It depends'. If you understand what items sell, why they are in demand, and what drives the demand, it will help you choose the right strategy.
There are several approaches you can apply to find a product with potentially high demand: niche market segmentation to find a gap in product sales; profiting from products that are already popular; making the most of the Search engine and keyword research match, etc. They can all be useful if you understand the trending and have the right strategy in place.
In other words, the correct question is not 'How to find a profitable product to sell on Amazon', it's 'why the product is profitable on Amazon?'. If you just find a bestseller and buy the same on AliExpress to resell, this is most likely a total waste of money because the competitors were there before you and occupied the Buy Box. High-demand products may imply high competition.
The answer is: understand what is the reason for the product's potential high demand, grow sales, and constantly monitor your product's KPIs.
In this post, we will discuss what are profitable products to sell on Amazon and what are the criteria for the most purchased items on Amazon.
What Is Product Demand?
Simply put, product demand is a willingness of a shopper to buy an item at a proposed price. Also, the high demand will not be there forever. According to the law of demand, other things being equal, if the price of a commodity falls, the quantity demanded of it will rise, and if the price of the com­modity rises, its quantity demanded will decline.
If you expect the product to be in high demand, we are talking about market fit and generated demand. Market fit demand means that the product uniquely serves the target market. Generated demand is the one created due to marketing efforts, and a professional seller can generate demand where there is no market fit. This means, that with the right marketing and pricing strategy, you can create demand and increase it.
Also, when you think about what to sell on Amazon for profit, you may consider latent demand and find a product that can satisfy a want that is unable to be satisfied by any existing product application. This means, that you can think about creating new added value to the product (bundles) or monitor the trending.
What Is the Best Product to Sell on Amazon?
When you are asking yourself how to find products to sell on Amazon and the most profitable products to sell, the good idea is to start with the criteria the best products to sell on Amazon should meet.
The criteria are as follows:
Product price is $15 and $200;
The product can make at least 10 sales a day;
Similar products get a Best Seller Rank of at least 5,000 in the main category;
The top 3 related keywords have 50,000+ monthly searches on Amazon;
Not a seasonal product;
2-3 products with less than 50 reviews on the first page;
Cost is 25% of the sales price;
Small, lightweight, not fragile;
No brand name;
Listing can be optimized;
Keyword expansion options;
Reliable and convenient supply;
Recurring demand;
Doesn't belong to the restricted category.
Tip. To quickly and effectively source profitable products, merchants use product research tools. Seller Assistant Аpp is one such tool that can reliably help you with this task. This all-in-one extension incorporates all features vital for product research. Seller Assistant App shows you the product's profit, margin, and ROI. It also helps you immediately see if a product has any sales restrictions or has triggered problems with account health in the past. It combines an FBM&FBA profit calculator, Quick View, Stock Checker, and Restrictions Checker in one tool.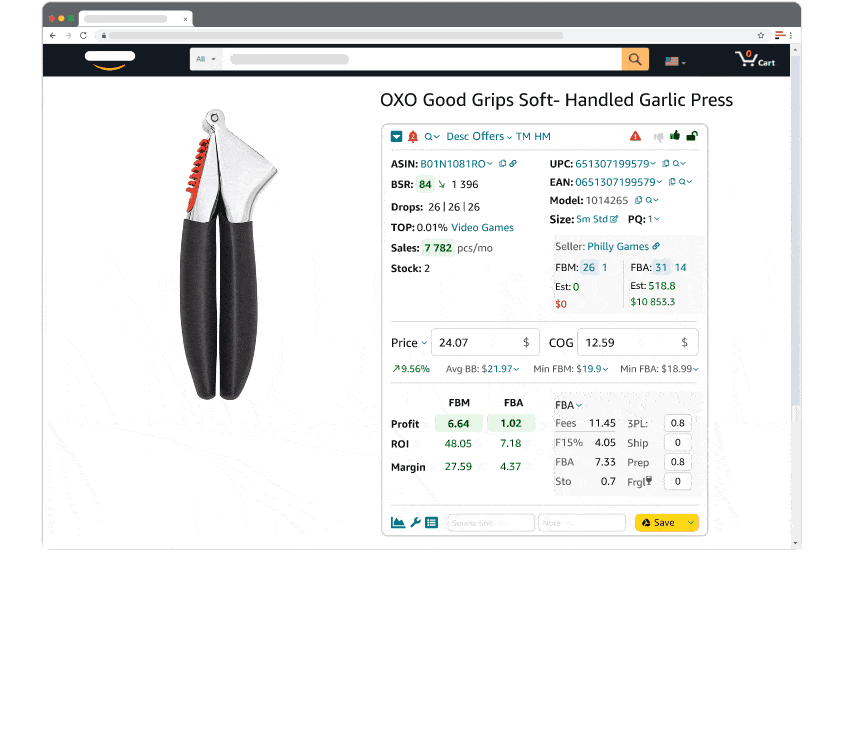 What Products Are in High Demand?
When you are identifying product demand on Amazon, it is good to know which categories have the highest demand.
The product categories by product demand are as follows:
High-demand product categories are:
Home & Kitchen
Health & Personal Care
Sports & Outdoors
Beauty
Medium-demand product categories are:
Toys & Games
Pet Supplies
Home Improvement
Office Products
Low-demand product categories are:
Industrial & Scientific
Automotive
Arts & Crafts
Musical Instruments.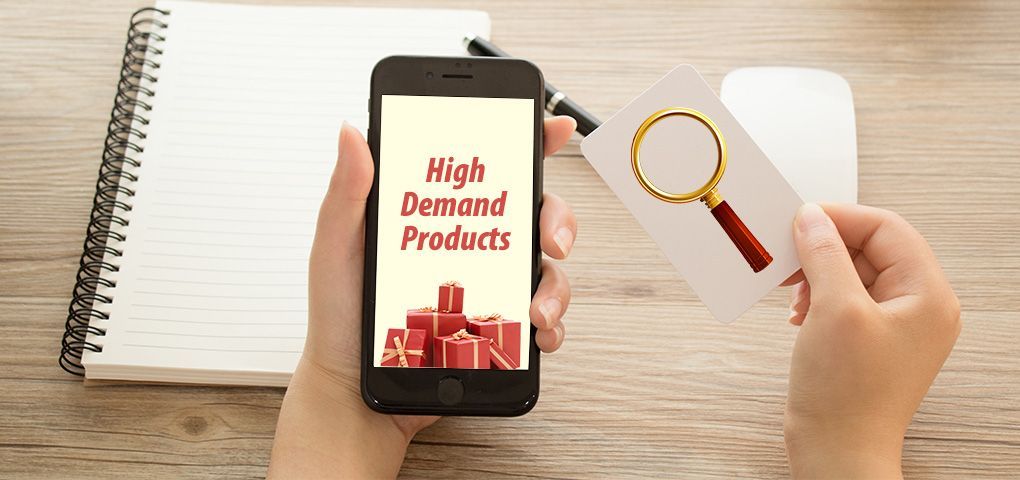 Market Fit: How to Find Amazon Product Niches?
A niche market is a focused segment of a broad marketplace with demands and preferences that differ from the other Amazon niches. Targeting a specific audience and its unique demands gives you a competitive advantage compared to the seller addressing the broad audience as you can concentrate exactly on its needs and preferences. This will make your approach outstanding and create buyers' loyalty. Profitable niches have undisputable benefits like reduced competition, focused business efforts, expertise sales, and establishing brand awareness.
The most commonly used criteria to define a niche are:
Level of quality (luxury, economical, handmade);
Price (premium, moderate, discount);
Demographics (income level, gender, age, education level);
Psychographics (values, interests, hobbies, attitudes);
Geography (residents of a certain country, city, or neighborhood).
There are general dos and don'ts as to what types of products are worth considering and what is preferable to avoid (unless it's a part of your marketing strategy.
A good Amazon niche product is:
An item you don't simply find in every local store;
An item with flare, adding value;
An item priced between $15 and $200;
An item with a high perceived value;
Light, easy to pack, and easy to use.
Niche products to avoid on Amazon:
Items with High Competition;
Oversized, Bulk, Fragile, or Too Heavy Items;
Extremely Seasonal Items;
Extremely fashionable items which would not last long;
Difficult to assemble or easily broken items;
Complex to manufacture, Licensed, or Restricted category products;
Check if the product sells in the selected marketplace;
Check financial parameters, and see how much your product price is justified.
A complete guide on how to select a product to sell on Amazon you can find here.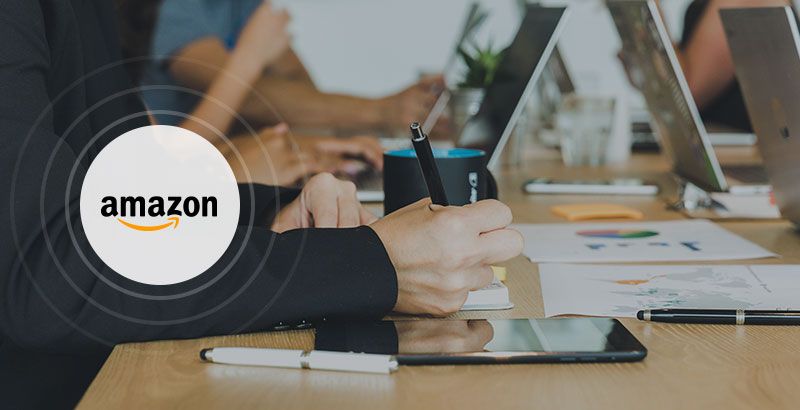 Generated Demand: Grow Your Product
As said, the high-demand products on Amazon can be 'created'. You can and should use all means possible to drive traffic to your listings.
5 Effective Strategies to Increase Amazon Sales
1. Verify your marketing strategy;
2. Regularly revise your listings;
3. Constantly revise your pricing strategies, sales plan, and inventory;
5. Make most of all Amazon features, but account for the price.
If you want to get detailed insight on how to increase Amazon sales, read our blog.
Also, if your products are successful and your KPIs are showing consistent growth, you might think about selling your business and profiting from that.
Latent Demand: Why Is It Important to Identify Amazon Trends?
Oftentimes, high-demand Amazon products create a new value or add new value to existing products, like you do when combining two products in a bundle (shampoo and conditioner). Detecting the latest Amazon trends helps you create current and future products, being an excellent research tool to better forecast your business.
How to Identify Amazon Trends?
Study Amazon's Best Seller Rank;
Look into "New Releases" and "Movers & Shakers";
Check websites and publications within your niche market;
Search relevant new keywords;
Read reviews on hot items.