Aloha, Amazon Seller!
What are restricted products Amazon? Check Amazon restricted products list, and how to get approval to sell restricted items on Amazon.
Amazon is known for having a variety of different regulations. The biggest marketplace on the globe sells thousands of millions of shoppers, declaring customer satisfaction as their primary goal. In practice, this means, that the shopper should get the product he was looking for, best quality, excellent service, and the product should raise no claims. The latter means, that the product should be safe to use and legally allowed in the market where it's sold.
In other words, you can't sell just anything you want on Amazon. They have a sales policy as to what products and brands you can sell, what you can't sell, or you need the approval to sell. These regulations apply to so-called 'restricted (ungated) Amazon categories', or 'restricted products Amazon' (which makes a difference). In some cases, restrictions imply extra commissions.
The worst thing you can run into is the situation when you researched a perfect product, found a great supplier, formulated a price strategy, SEO, even calculated all Amazon fees, and afterward, you find out you cannot sell it. Therefore, it's good to know the Amazon product restrictions in advance, because if the product is forbidden, Amazon will not allow you to sell it as it is. However, restricted does not always mean totally forbidden, and oftentimes, you can get permission from Amazon to sell restricted items on Amazon or get an Amazon restricted categories approval.
What Are Amazon Restrictions?
Amazon FBA restrictions mean, that sellers need to get approval before they can sell products in certain categories. The restrictions vary depending on the marketplace and national laws, the lists of restricted categories and products differ, for instance, in the US, and in the UK.
The marketplace distinguishes between restricted categories on Amazon and Amazon restricted products.
Restricted Categories on Amazon
The list of restricted categories in the United States is as follows:
Holiday Selling Requirements in Toys & Games
Amazon Watch Warranty FAQs
Made in Italy
Video, DVD, & Blu-ray
Collectible Coins
Streaming Media Players
Personal Safety and Household products
Grocery & Gourmet Foods
Music Category
Lighting Category
Beauty Topical
Sports & Nutrition
Watches
Gardening & Watering
Automotive
OTC Medication
Haircare & Beauty Appliances
Baby Topicals
Toys
Pet supplies
Medical supplies & Equipment
Pet Care
Pet Food
Candles & Aroma Therapy
Power Tools
Home Environment Electronics
Wireless Accessories
Baby Feeding
Feminine Hygiene
Baby Activity Gear
Baby Strollers and Carriers
Audio Visual
Personal Safety & Household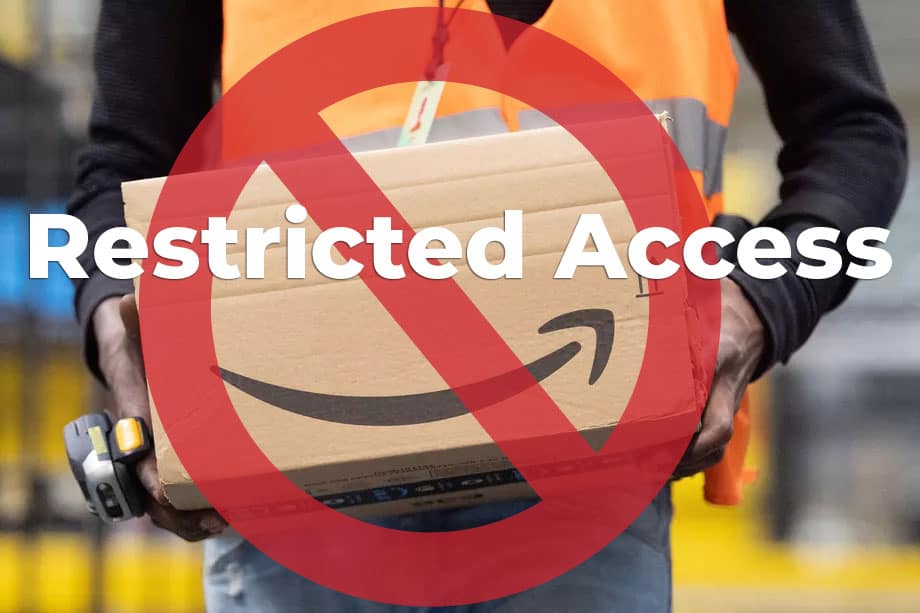 Amazon Restricted Products List
On top of the restricted categories, there are FBA product restrictions.
The list of restricted products in the US is as follows:
Alcohol
Animals & Animal-Related Products
Art – Fine Art
Art – Home Decor
Automotive and Powersports
Composite Wood Products
Cosmetics & Skin/Hair Care
COVID-19 Supplies
Currency, Coins, Cash Equivalents, and Gift Cards
Dietary Supplements
Drugs & drug paraphernalia
Electronics
Explosives, Weapons, and Related Items
Export Controls
Food & Beverage
Gambling & Lottery
Hazardous and Dangerous Items
Human Parts & Burial Artifacts
Jewelry & Precious Gems
Laser products
Lighting
Lock Picking & Theft Devices
Medical devices and accessories
Offensive and Controversial Materials
Pesticides and Pesticide Devices
Plant and Seed Products
Postage Meters & Stamps
Recalled Products
Recycling electronics
Subscriptions and Periodicals
Surveillance Equipment
Tobacco & Tobacco-Related Products
Warranties, Service Plans, Contracts, and Guarantees
Other Restricted Products
Refrigerants: Ozone-Depleting Substances and Substitutes
Upholstered Furniture, Bedding, & Other Quilted Products
CPAP Cleaning and Disinfecting Devices.
These lists are updated on the regular basis, therefore you need to check them at your Seller Central before introducing a new product in a new category.
Amazon FBA Restricted Brands
Amazon also restricts the use of brands, so if you're going to sell a product from a well-known brand, make sure that you have approval from Amazon.
Brand restrictions are Adidas, Nike, Gucci, etc.
Product Condition Restrictions
Amazon has restrictions on certain product conditions in several categories.
The list of the categories restricted for used items sales are as follows:
Baby Products
Beauty, Clothing, Accessories & Luggage
Grocery & Gourmet Food
Health & Personal Care
Jewelry Shoes, Handbags & Sunglasses
Watches
What Happens If You Fail to Comply with Restrictions?
Amazon is very serious about TOS and other regulations' non-compliance. If you violate the restrictions, Amazon may:
Cancel your listings;
Limit your listing privileges;
Suspend your account;
Ban your account.
If you're unlucky and this happens, see our guide as to how to reinstate your account.
However, to be on the safe side, it's better to comply with Amazon's rules and regulations, because reinstating your account is not an easy process.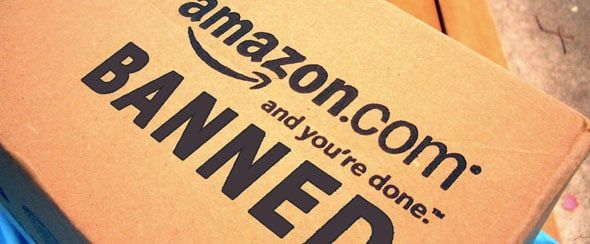 What if You Want to Sell In Restricted Categories?
Though getting approval to sell in Amazon restricted categories require additional effort, and may involve additional fees, in restricted categories, there is much less competition than in Amazon open categories. Selling in such categories can be your lucky chance if you get approval from Amazon.
How to Apply for Restricted Amazon Categories Approval?
#1. Log in to your Amazon Seller Central account;
#2. Navigate to Inventory;
#3. Select 'Add a Product';
#4. Search for your product;
#5. If it returns as restricted, click 'Listing Limitations Apply';
#6. Click the 'Request Approval' button.
If you receive immediate approval, that's your luck.
Additional Criteria for Restricted Categories Approval Can Include:
An order defect rate of below 1%;
Pro-seller plan;
An account in good standing;
At least 3 months of sales history;
Invoices.