Aloha, Amazon Seller!
How to make money selling books on Amazon? Get started, you'll need to learn how to find books to sell on Amazon and what types of books you should and shouldn't sell.
Do you know that old books gathering dust on your grandma's attic can bring you money? It happens that in many cases things you don't need may be of value or be of use for other people. Collectibles, old textbooks, or niche books can be sold online like hotcakes.
A perfect place to sell a book you want to get rid of is Amazon.com, with its 66,000 orders shipped per hour throughout the US. This platform offers a good chance to sell almost anything. On top of that, sales of your first book may be the start of your successful Amazon business, as it happened with many sellers, and actually, with Jeff Bezos himself.
In this blog, we're going to tell you how to sell books on Amazon and fill up your online bookstore, how to make money selling books on Amazon, how to find your inventory at a good cost, and will share selling books on Amazon tips and secrets.
How to Sell Books On Amazon?
Selling books on Amazon involves several steps. The sales process is more or less the same as selling any product on the platform. You need to select a book you want to sell, create an account on Amazon, list a book on the platform so that shoppers can find your book and see all information about the price, etc., and select a fulfillment method – Fulfillment by Amazon (FBA) or Fulfillment by Merchant (FBM) – to deliver a book to your customer.
5 steps to sell books online Amazon:
Step 1: Select a book to sell;
Step 2: Create an Amazon Seller Central account;
Step 3: Select a fulfillment method – FBA or FBM;
Step 4: Set the book's price;
Step 5: List the book on Amazon.
Let's go step-by-step and find out how Amazon bookselling looks in detail.
Step 1: Select a Book to Sell
How to Find a Book to Sell on Amazon?
There are a lot of places you can discover a book to list. However, a book you are going to list should be the right choice because not all Amazon books sell well. One of the ways to find a right book is to research it by the Best-Seller Ranking.
On Amazon, all products are assigned a Best Sellers Rank (BSR). The lower the BSR, the better it sells. This means that a book having BSR#1 in its category sells as much as 1,500 copies per month. You can find a BSR number in the product details of the book's listing. Any book that is assigned a BSR lower than 100,000 is a good candidate for Amazon bookselling.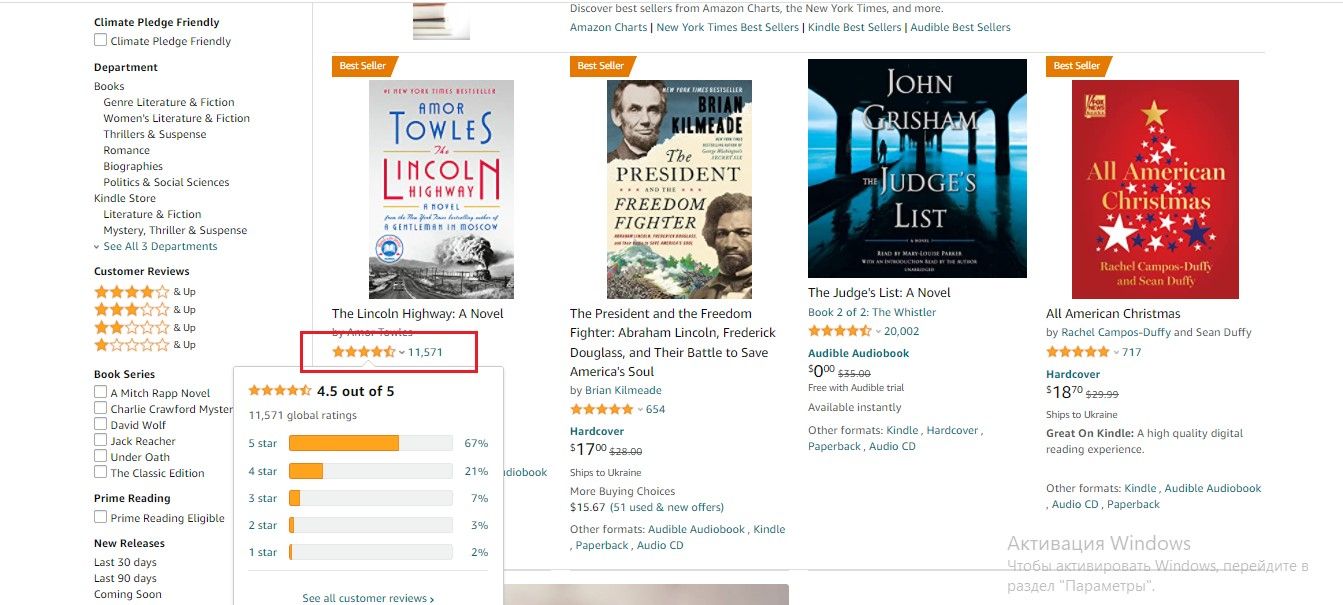 What Kind of Books Sell Best on Amazon?
Popular types of books on Amazon are:
Textbooks;
Niche books;
Comic books;
Collectibles;
Non-fiction;
Hardcovers.
Types of books that sell poorly on Amazon are:
Fiction;
Children's books;
Cookbooks;
Mass market paperbacks;
Popular new books.
Where to Find Books to Sell?
The most popular places to search for the inventory for your store are book sales and e-commerce platforms other than Amazon where you can find books cheaper. However, as said, you can find books to sell even in your own home, like old textbooks, for instance.
Places to Find Selling Books on Amazon:
Books you have at home;
Book sales;
E-commerce platforms and websites;
Wholesale purchase;
Estate or closing sales;
Free books.
Tip: Look for wholesale options or free books on Facebook Marketplace and Craigslist.
Step 2: Create an Amazon Seller Central Account
To start selling books on Amazon, you may use your existing customer account, or create a new Amazon seller account.
Creating an Amazon account requires:
Valid credit card;
Government ID;
Tax information;
Phone number;
A bank account for Amazon to send you funds earned from sales.
How to Register Amazon Seller Account?
# 1. Go to https://services.amazon.com. Get to a sign-in page.
# 2. Select a Selling Plan from two plans: Individual and Professional. Under the Individual plan, there is no payment, but there is a fee of $0.99 per sold item. Under the Professional plan, you pay $39.99 per month, the number of items being unlimited.
# 3. Enter your name, e-mail address, and password. Get a verification code.
# 4. Enter your business information – business type and location.
# 5. Submit your personal data and proof of identity.
# 6. Enter your billing method.
# 7. Select a name for your Amazon store.
# 8. Verify your identity.
# 9. Application sent. Amazon will approve it within 24 hours.
# 10. Start selling.
A detailed guide on how to register a Seller Central account on Amazon you can find here.

Step 3: Select a Fulfillment Method – FBA or FBM
On Amazon, there are more than two fulfillment methods, however, for the purposes of book sales, the most popular methods are FBM, Fulfillment by Merchant; and FBA, Fulfillment by Amazon.
FBM method is when the Amazon seller himself takes care of the order picking, packing, labeling, delivery to the customer, customer support services, and returns management. FBM is used if you have a small number of orders or a large-scale operation where your fulfillment costs are lower than Amazon's.
FBA method is when Amazon takes care of the order picking, packing, labeling, delivery to the customer, and returns management. FBA is used if you have many orders, but the scale of your operation is not big enough to make your fulfillment costs lower than Amazon's.
Step 4: Set The Book's Price
Make research of competition and set a competitive price. Consider a book's condition when setting its price. Don't overprice a book, so that customers are interested to buy it.
Step 5: List the Book on Amazon
To list your book, you'll need to find it on Amazon, and enter your offer's SKU, price, the number of books, condition, and fulfillment method.
Here's how to list your book:
#1. Log in to your Seller Central account;
#2. Find a product page for the book you want to list by title or ISBN (the book's registration code) and list your books from the Amazon page instead of creating a new listing. Your book will be displayed on that page.
#3. Click on the "Sell on Amazon" button. If you're allowed to sell the book, you will see a listing screen.
#4. Enter your book's information:
SKU – your code for the book; if you don't specify it, Amazon auto-generates it;
Price;
Quantity of books for sale;
Condition, one of the following: 'New', 'Like new', 'Very good", 'Good', and 'Acceptable';
Fulfillment method – FBA, if you want Amazon to fulfill it, or FBM, if you chose to fulfill it yourself.
the SKU number for the book if you have it.
#5. Click Save and Finish. Now your book is listed for sale on Amazon.
How to Sell Used Books on Amazon?
Selling used books on Amazon is similar to selling new books. You will need to go through all steps 1 to 5 listed above, and in the "Condition" line under listing, screen specify one of the following: 'Like new', 'Very good', 'Good', and 'Acceptable', depending on the condition of the book.
If you're going to empty your school or student's bookshelves, look into Amazon's Textbooks Trade-In program – they may buy almost every book you want to get rid of.
Enjoy your sales and don't forget about your product's profitability and KPIs, it's very important to keep track of them as they show your account health. To do the analysis easily, you can use Business Analytics Seller tools, like SelleRise. With this tool, you can keep track of your sales, costs, and profits and see where you can optimize them. Also, you can see sales and profit dynamics showing you how healthy is your business.