Aloha, Amazon Seller!
What is an Amazon virtual assistant and should you hire one for your business? What can Amazon virtual assistant do for you?
Selling your product on Amazon.com is not an easy game. E-commerce is so extremely popular today, and it's still growing while Internet services have rooted deeply in our everyday life. Though Amazon offers tremendous opportunities to earn money from retail sales, and not only, it is a very crowded marketplace with high competition.
For that reason, having professionals to help you start or grow your business might be a good idea if you want to save on time and effort and optimize your product performance.
To do that, you can hire a Virtual Assistant for Amazon, an expert, who will take care of your customer relationship management, inventory management, listing optimization, and a lot of other things depending on your needs.
Wonder what's a Virtual Assistant? In this post, we will discuss what's a virtual assistant, what does Amazon assistant do, what is Amazon assistant service, and how to use Amazon assistant.
What Is a Virtual Assistant?
On Amazon, Amazon seller Virtual Assistant, or VA, is an expert you can outsource as your Amazon online assistant. Virtual Assistant Amazon, the same way as any online consultant can work for you on a full-time, part-time, or on a per-task basis.
If you are asking yourself a question 'What is a virtual assistant and what do they do for your business?', this probably means that it's time to scale your business and understand how they can help you grow your revenue and ROI.
For a professional seller account owner and have large-scale sales operations with substantial turnover, and a lot of orders you need to process every day, it may be definitely high time to consider hiring a Virtual Assistant Amazon FBA.
The reason is simple – when your business is growing, it becomes very difficult for you to manage a lot of different types of sales activities with the same pace and quality you've done when you had a few orders. You need to update your existing listings and make research on the new ones, update keywords and Amazon virtual assistant skills are the undoubtful added value when it comes to reviewing your strategy, defining ways to scale your business, or improving your marketing strategy. optimize PPC campaigns, react to negative reviews, not to mention inventory reorders, the necessity to deal with refunds, and much more.
If you try and make up a list of your daily tasks you will, most likely, see that they are overwhelming. This might mean that the time has come to load some of those to outsourced personnel, especially the most routine of them.
On the other hand, professional Amazon virtual assistant skills are the undoubtful added value when it comes to reviewing your strategy, defining ways to scale your business, or improving your marketing strategy.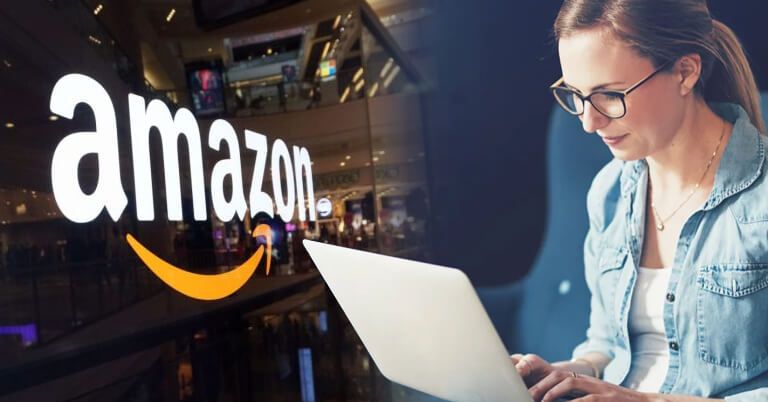 What Can Amazon Virtual Assistant Services Do for You?
An Amazon VA can take care of different functions related to managing your Amazon store. Amazon seller Virtual Assistant can perform all backend operations like inventory management, order fulfillment, and customer communication. Amazon Virtual Assistant will provide you with professional assistance in a lot of different areas, like Amazon competitor analysis and market research; customer service; Amazon listing creation and optimization; order processing; website designing, etc.
Virtual Assistant Amazon can help you with:
Product research
Amazon virtual assistants can help you find profitable products to sell in a number of ways, including:
Conducting market research: VAs can use a variety of tools and techniques to research products that are in demand and have the potential to be profitable. This includes analyzing sales data, tracking trends, and identifying gaps in the market.

Identifying trends: VAs can stay up-to-date on the latest trends and identify products that are likely to be popular in the future. This can give you a head start on your competitors and help you find products that are in high demand.

Scouting products: VAs can search for products that are available for online arbitrage, wholesale, or dropshipping. They can also negotiate prices with suppliers and help you find the best deals.

Analyzing product data: VAs can use a variety of tools to analyze product data, such as sales data, reviews, and ratings. This information can help you make informed decisions about which products to sell.
Tip. To quickly and effectively source profitable products, VAs can use product research tools. Seller Assistant Аpp is one such tool that can reliably help you with this task. This all-in-one extension incorporates all features vital for product research. Seller Assistant App shows you the product's profit, margin, and ROI. It also helps you immediately see if a product has any sales restrictions or has triggered problems with account health in the past. It combines an FBM&FBA profit calculator, Quick View, Stock Checker, and Restrictions Checker in one tool.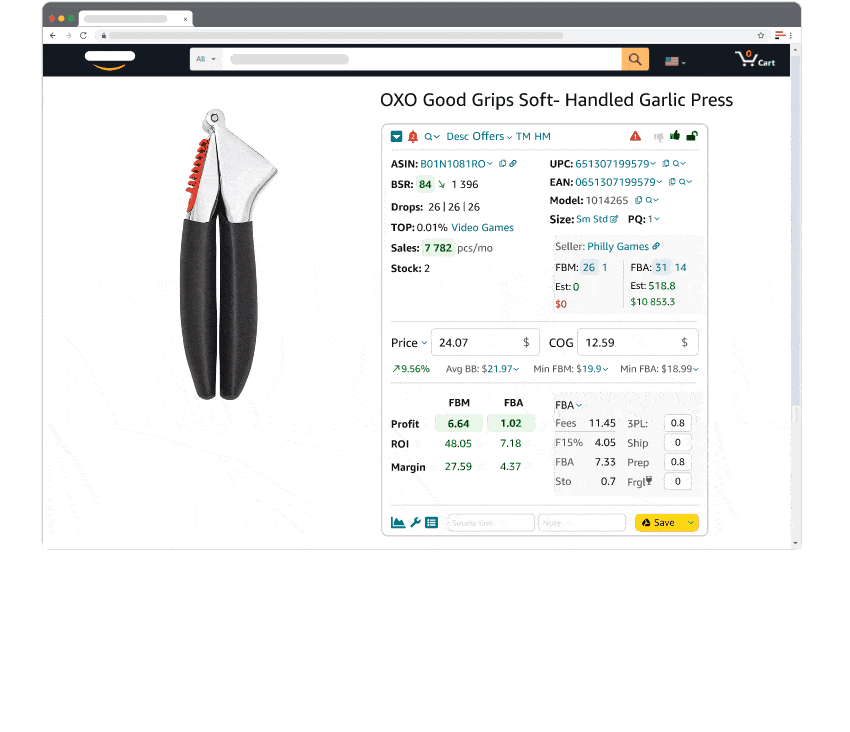 Customer Relationship Management
On Amazon, high-standard customer care is a must. If you want to have a good ranking on Amazon, which is a prerequisite for efficient sales, you need to have a lot of good reviews and positive customer feedback, which requires time, patience, and sometimes creativity when communicating with your shoppers. They might have claims as to different aspects of your product, and you need to make clarifications or engage in discussions in such cases to maintain your reputation and account health. Not responding to negative reviews is more damaging than a delayed delivery. These types of things you can delegate to Amazon Virtual Consultants if you are not fond of doing this yourself.
Communication with the Manufacturers
It is extremely important that your product is ready in the manufacturer's stock and delivered on time. This is something Amazon takes into account when ranks you. If you are using specific packaging, insert cards, or other promo material inserted in the factory, this needs to be taken care of, as well as a lot of other things related to the timely shipment, right quantities, etc. This job can be done by the VAs.
Listing Optimization
Listing is the 'face' of your product, and it should contain clear, readable, and exhausting information in one place, so that the shoppers find all they need to make the purchase decision, in your listing. This is not an easy task, not to mention the SEO optimization, keyword density, primary, secondary, hidden, negative, and backend keywords. You need to do a lot of routine work, like correcting product titles, updating product descriptions, etc. This is the VA job, which will create proper content for you. Amazon Virtual Assistant services offer integral professional solutions for listing optimization.
Order and Inventory Management
Managing order tracking, maintaining records of orders, shipping dates, invoicing, dropshipping details (if you are in this type of business) can be a real headache. You also need to deal with unfulfillable orders, returns and refunds, and other inventory issues.
PPC Optimization
Setting up PPC campaigns and sponsored ads, keyword research, analyzing campaign ROI, increasing CTR, minimize CPC to boost sales are the tasks you can outsource to the professionals. Virtual Assistant for Amazon will take care of your marketing strategy and social media activities.
Communicating with Amazon
There are cases when you would definitely need an expert's help, to settle issues with Amazon, like when your listing is suspended. There is a chance to recover it and you can try and do it yourself, but professionals would most likely do it faster and more efficiently.
The biggest benefit of hiring a VA is that you can outsource most of your business tasks.  You can save your time and energy to focus on more creative activities like product research or looking for opportunities to grow your business.
How to Determine the Tasks to Outsource
Before moving further and deciding what is a VA's value for your business, you need to look at your daily activity and analyze whether you need a VA or not, considering, that consultant's services come with a cost.
When deciding on which responsibilities to delegate to VA, basically, here's what you should think of:
What is eating up most of your time?
Which tasks are the most routine?
What activities professionals could do better than you?
When you've considered all the above, you would look into the positive and negative sides of employing a VA instead of doing the job yourself.

Hiring a Virtual Assistant: Pros and Cons
The Virtual Assistant Pros:
Saving Time;
Professional skills;
Cost-efficiency compared to on-site assistant;
Convenience.
The Virtual Assistant Cons
Cost;
You need to 'train' a VA to your needs;
You need to control the hours and tasks.
Top 3 VA Hiring Tips
In order to find your ideal Virtual Assistant for the Amazon business, you need to formulate the tasks and look for a real professional expert. Here is the tip as to what you should look into.
1. Create a profile for your candidate
To do so, ask yourself the following questions:
What qualifications should your Virtual Assistant have?
What skills should your Virtual Assistant have?
What experience should your Virtual Assistant have?
What personal qualities should your Virtual Assistant have?
2. Look for the skills
A professional VA should:
Know how Amazon platform works and how to comply with its rules;
Be proficient in content creation and listing optimization;
Handle professionally any customer problems;
Be an expert in product research;
Know how to create marketing strategy abd set up PPC campaingns.
3. Control the work hours
For Virtual Assistant to bring real value to your business, their services should be structured to eliminate redundant work hours.